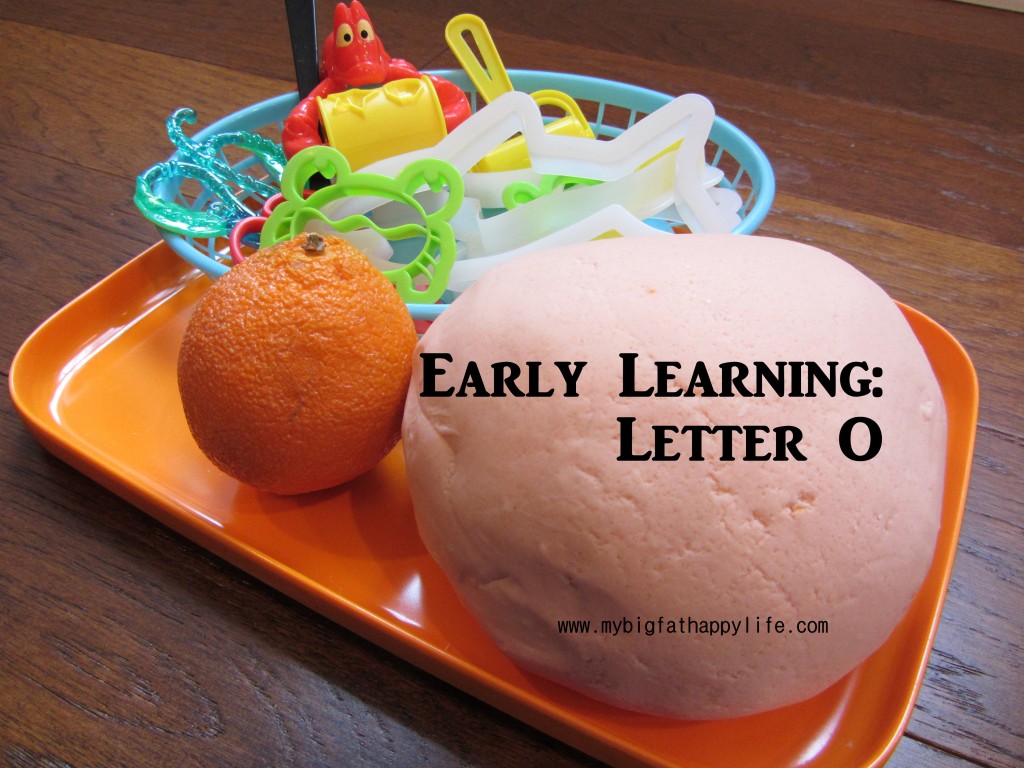 This week I will be starting a new series on how I am teaching S.  I will be using a combination of traditional worksheets, plus math, science, arts and crafts, and sensory activities.  S loves games, puzzles and books, so we will also use those. 
I have also been trying to keep the activities that I have planned for S as a surprise, that way she is more excited about them.  So I keep all of her worksheets and my lesson plan in a manila folder and then all the items we need to play in a tote on the table. To keep S interested, I try to vary the activities from week to week.  I also try to alternate between less fun activities (like writing) to more fun activities (like small world play).
For the first week, I wanted to choose a letter that I know S can write and a theme that I knew she would be extremely interested in; therefore the letter O and Disney Junior's Octonauts emerged. I set up the table with all of S's Octonauts and ocean toys.
The first thing I do when we sit down on the first morning is to look at a flash card with the letter on it.  Then we talk about different words that begin with that letter.  So for the letter O: octopus, ocean, Octonauts, orange, oatmeal, etc.
I used the following printables, linked to their original source, throughout our week mixed in amongst the other activities: Octonauts Tot Pack from 1+1+1=1
Arts & Crafts: Orange Play Dough We mixed up some of our favorite no cook play dough and added the zest of one orange plus food coloring to make Orange Play Dough.  S participated in the measuring and mixing of the play dough before enjoying creating.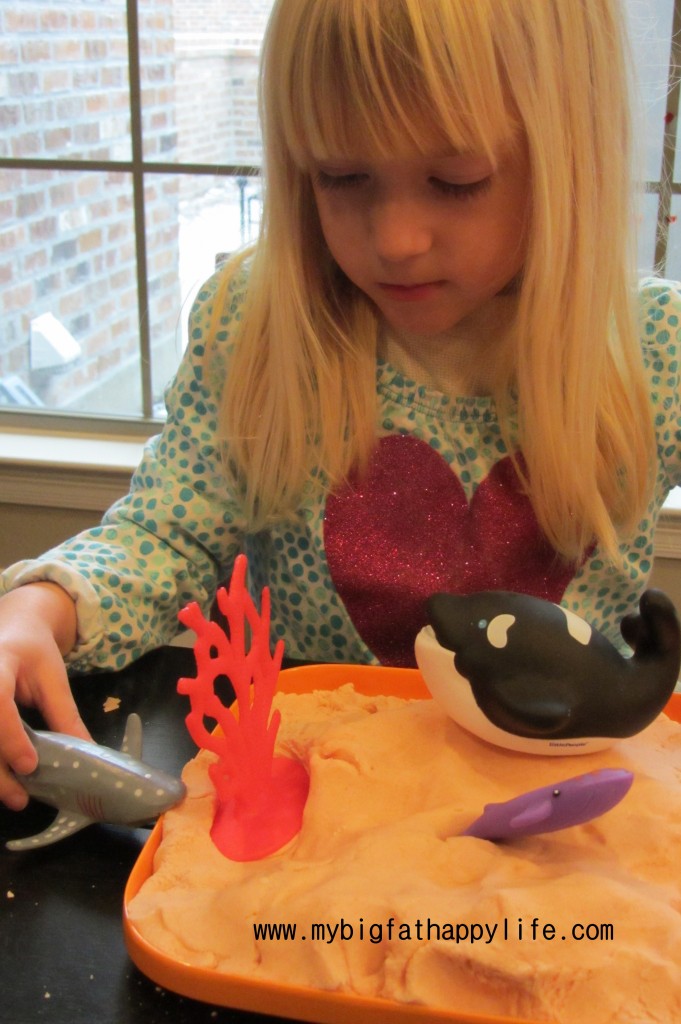 Arts & Crafts: Painting with an Orange This was a quick activity of cutting an orange in half and then I placed some paint on a paper plate before encouraging S to have fun.
Puzzle: Ocean We have a couple different ocean puzzles, so S put one together each day.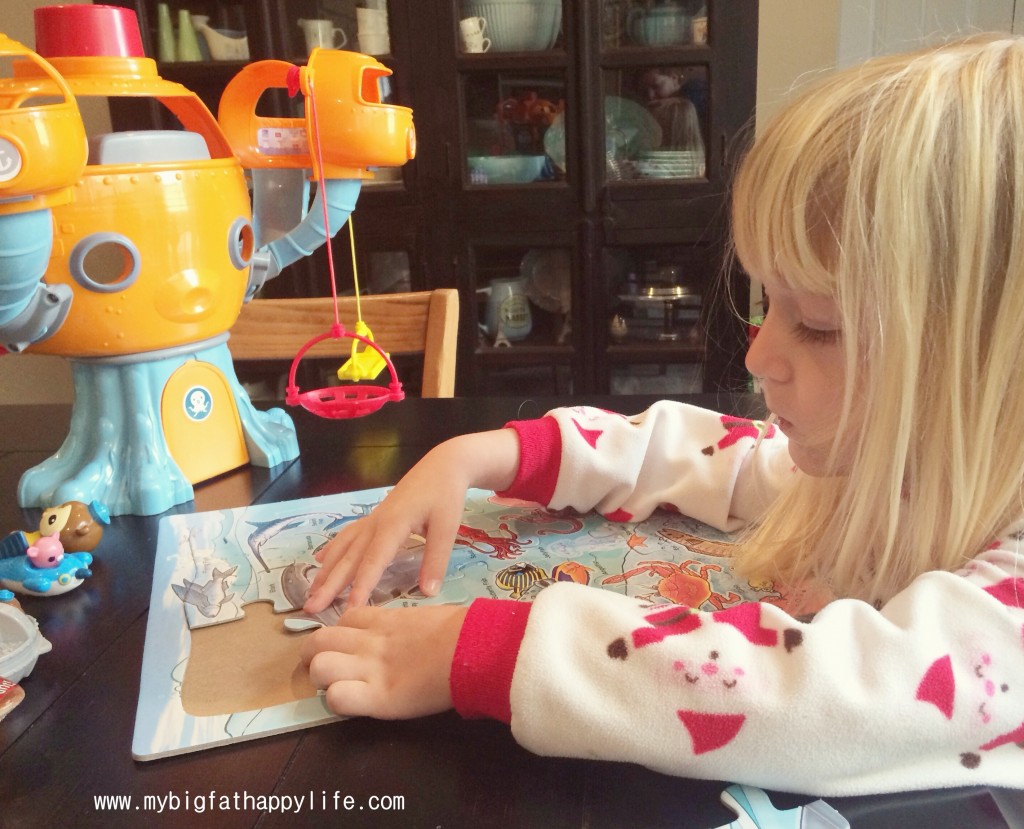 Books: Ocean Themed The same thing with books, we have several ocean books, so we read one or more each day.
Imaginative Play: Octonauts Play Set S will play and play and play with her Octonauts play set.  She makes up stories and plots for the characters to act out.  One of her big scenarios rights now is that each animal is hurt and has to visit Peso to feel better.  The animals even get a sticker after their visit to the medic.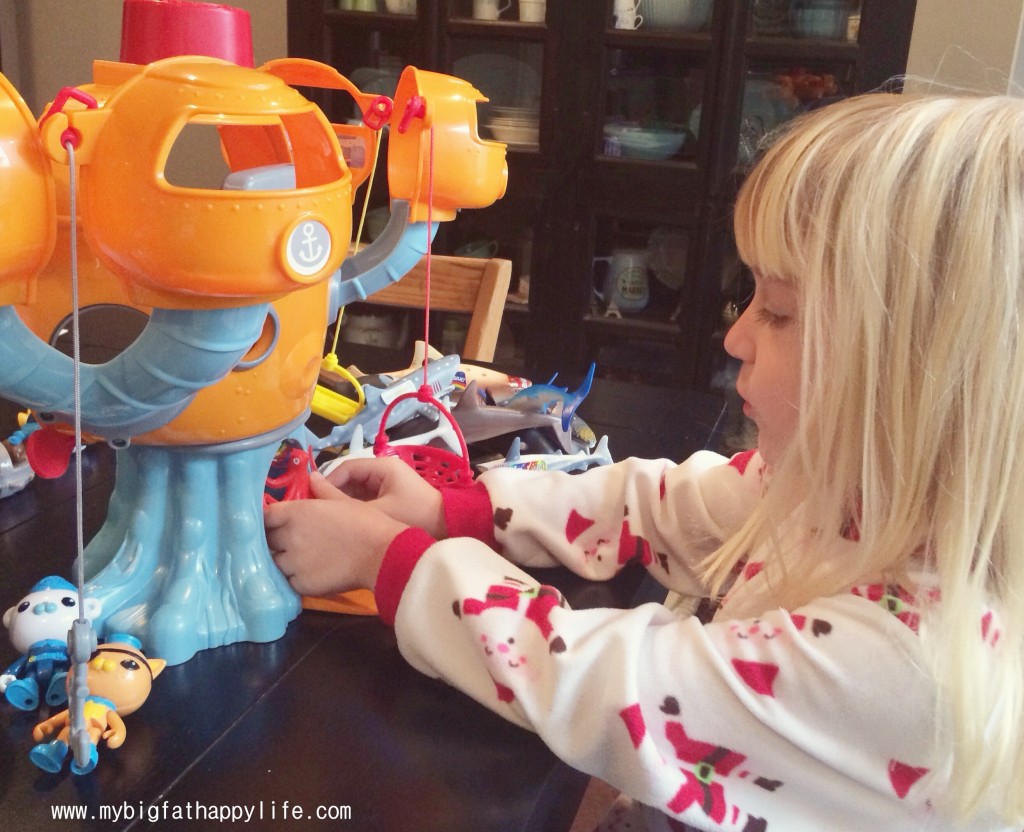 Math: Whales and Sharks in Order by size S has an ocean animals play set with lots of whales and sharks in various sizes.  I pulled out three sharks and asked S to put them in order for smallest to largest.  Then I pulled out three whales and asked her to put them in order from largest to smallest.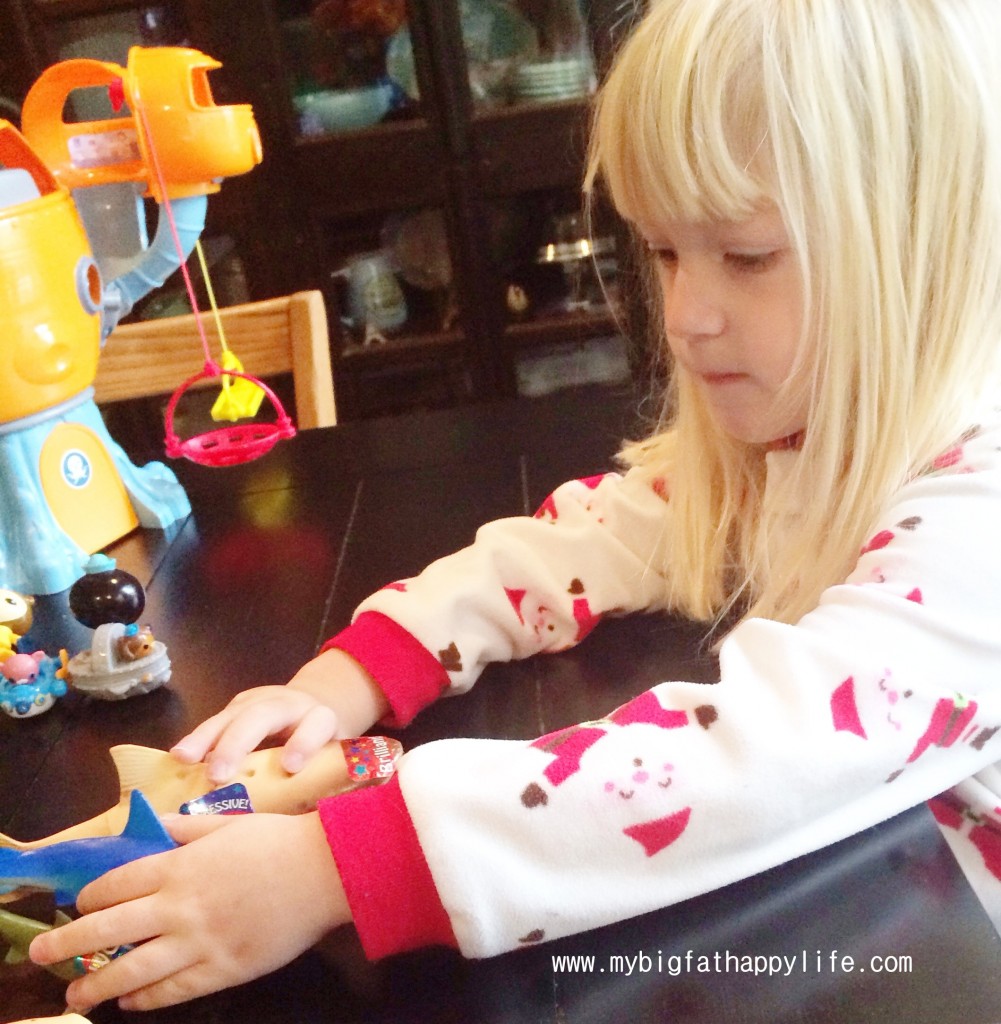 Sensory: Water Beads Water beads are a new item for S.  If you have never used water beads before then come in small packets.  You then have to hydrate them by covering them with water for several hours (or overnight) until they reach their full size.  I like to rinse them off with fresh water before giving them to S to play with. We used two packets of water beads: blue and green.  Since this was S's first time playing with water beads I let her explore them first.  She described them as wet, cold, bouncy.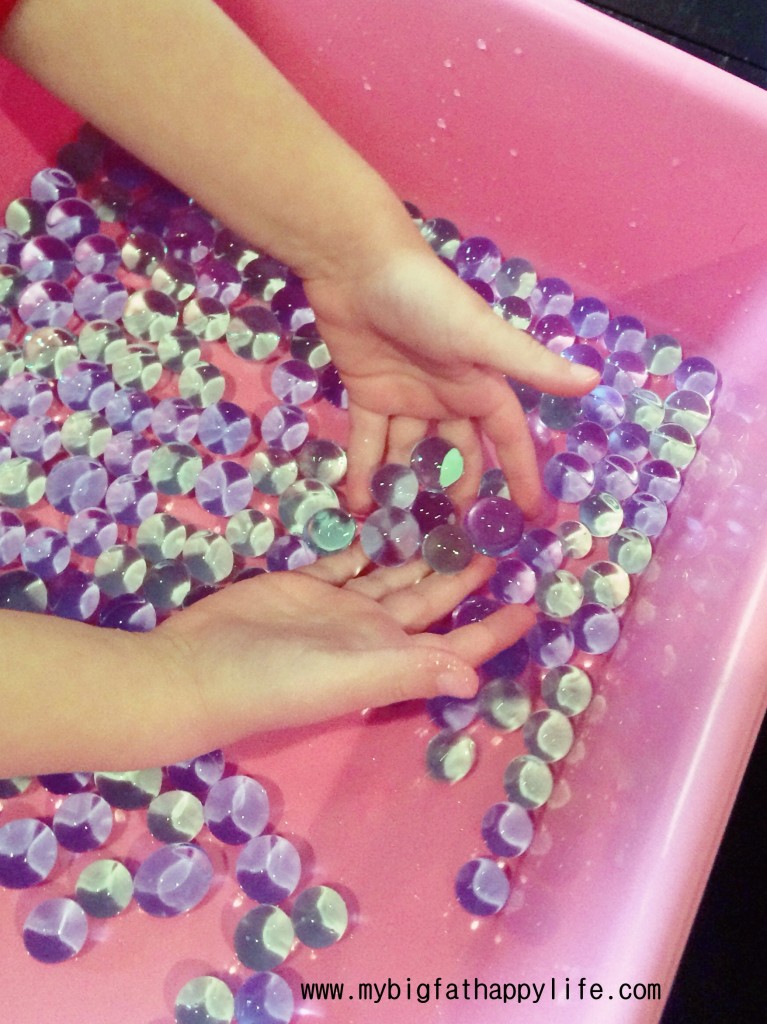 Ocean Small World Play We place sand in the bottom third of the plastic container and then filled the rest with water beads. Then S wanted real water so we added that.  S grabbed some sea creatures and started swimming them around.  We added some shaving cream, which is one of S's favorite things to play with.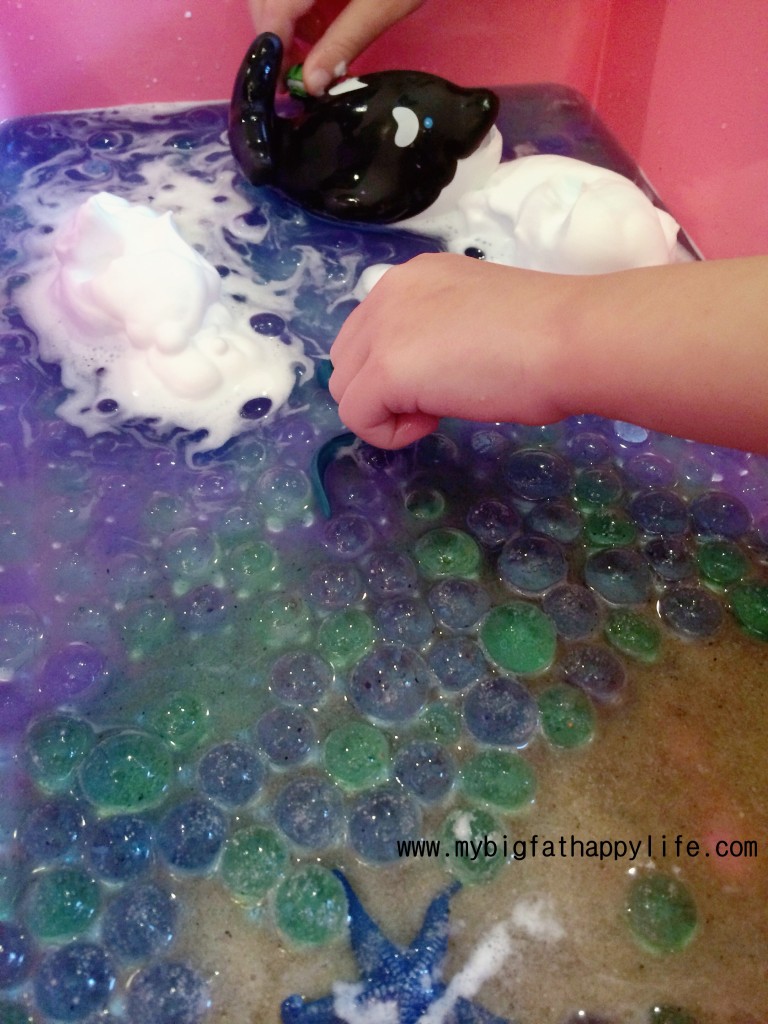 After the shaving cream dissolved, S was left with murky water and she set up an entire underwater scene.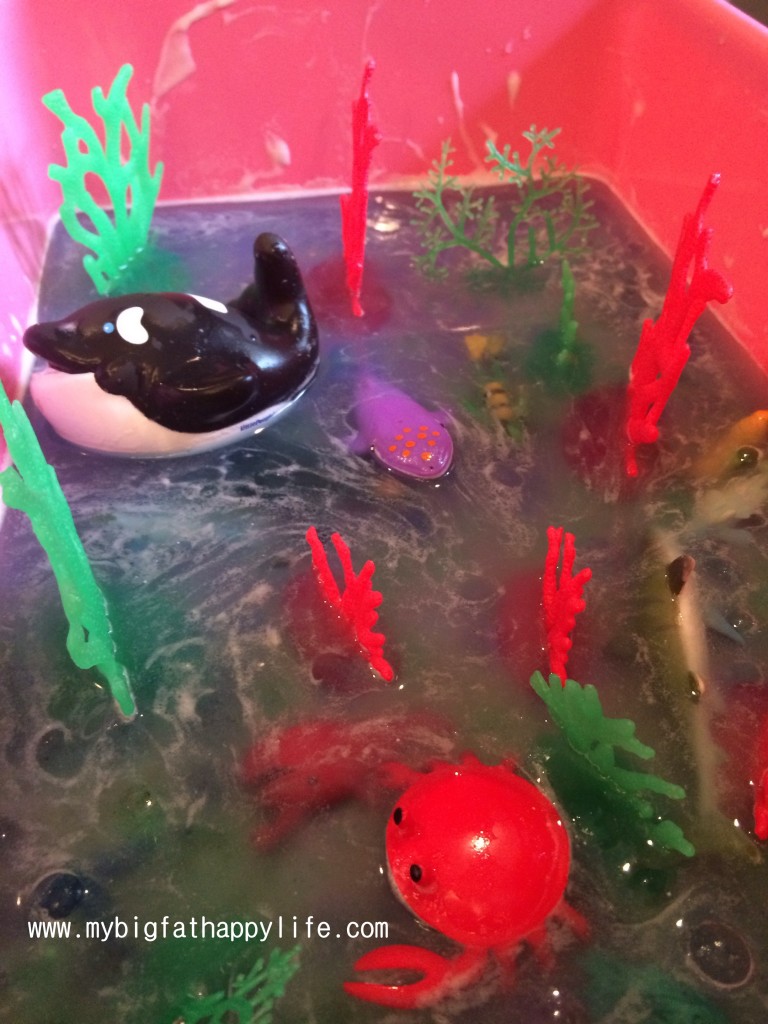 S did really well on her first week.  She was excited and happy through the whole process.