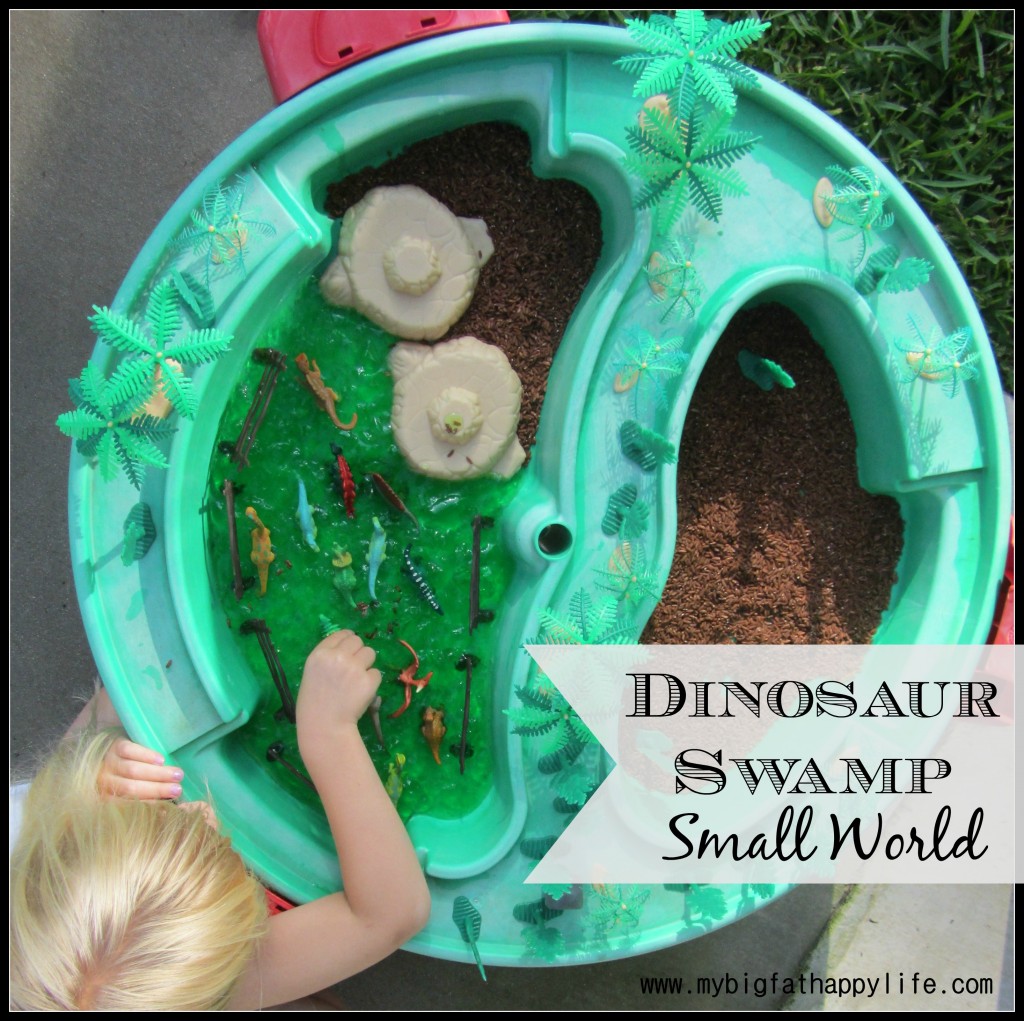 S is in love with dinosaurs right now, so of course we had to make a Dinosaur Swamp Small World Play. Small worlds are a great way to promote imaginative play and to learn and explore different environments.
We have been reading a lot of books about dinosaurs, her favorite being the Magic Tree House: Dinosaurs Before Dark by Mary Pope Osborne. S also has a pack of dinosaurs and she loves for me to tell her what each dinosaur is.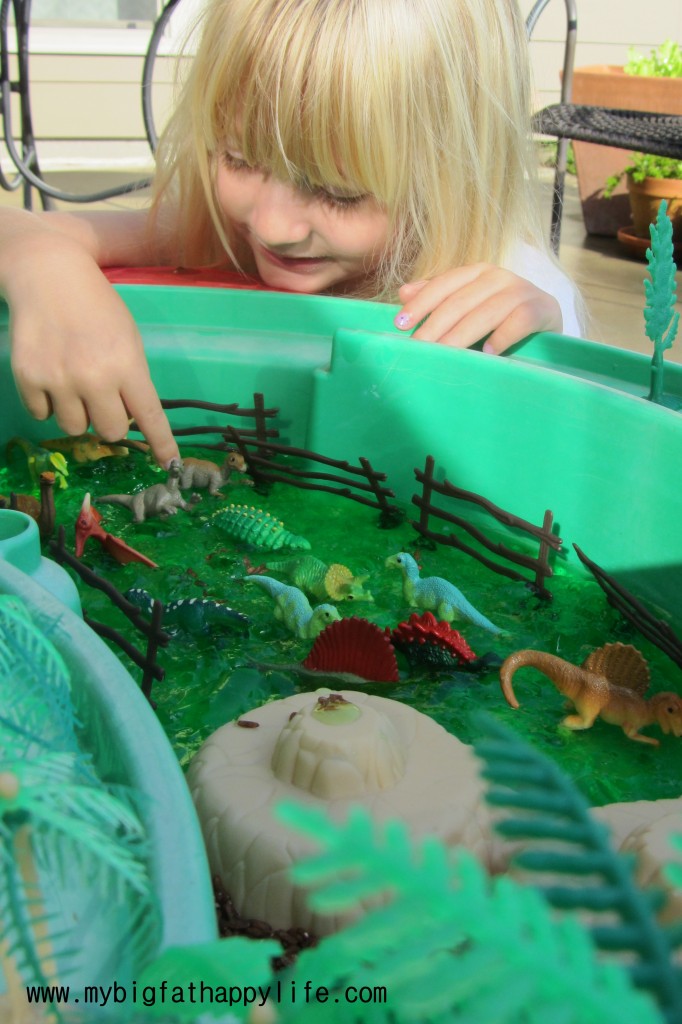 How to Make a Swamp
You will need to make the gelatin to use for the swamp, the day before you want to play. I followed the directions on the back of a package of gelatin and added in one package of lime jello to add a lovely scent and color to the gelatin. I did sub out water in the recipe instead of the suggested fruit juices.
I let my gelatin firm up over night, the next morning I ran a spoon through the gelatin to loosen it up and make it textured.
Assembling the Dinosaur Swamp
To assemble the Dinosaur Swamp Small World, we gathered the "swamp", chocolate colored/scented rice (you could use dirt or sand or omit), our Toob dinosaurs (or any plastic dinosaurs you may have), and plastic trees, rocks, and fences.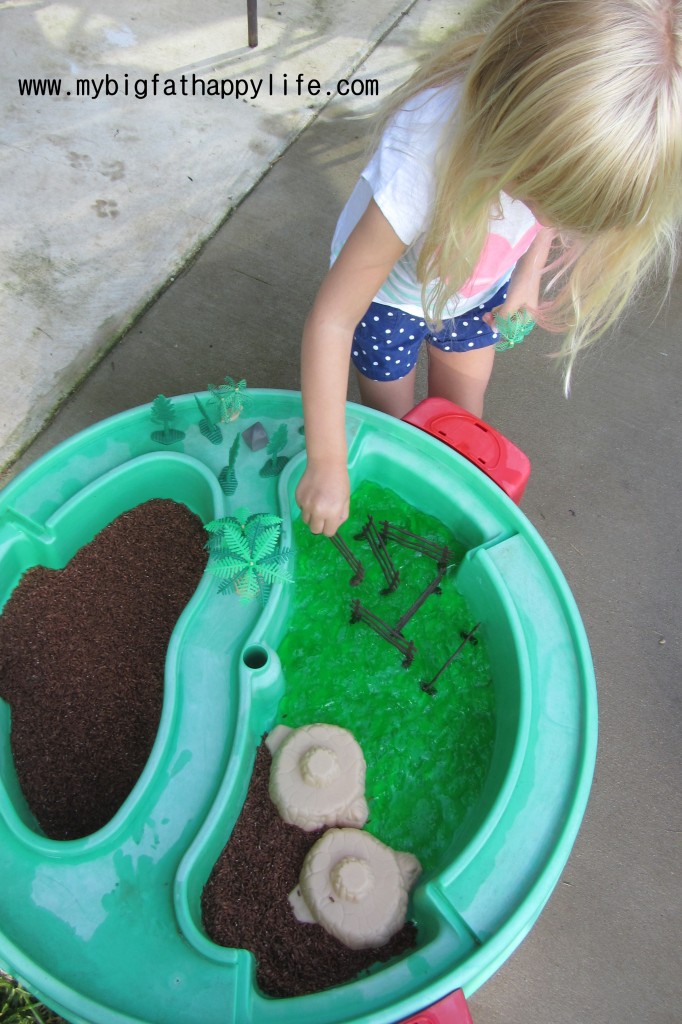 We took all of our supplies outside to our water table. I added the gelatin and rice to the table. Then I let S arrange the swamp as she wanted. Placing the trees, rocks and fences around before she started adding the dinosaurs.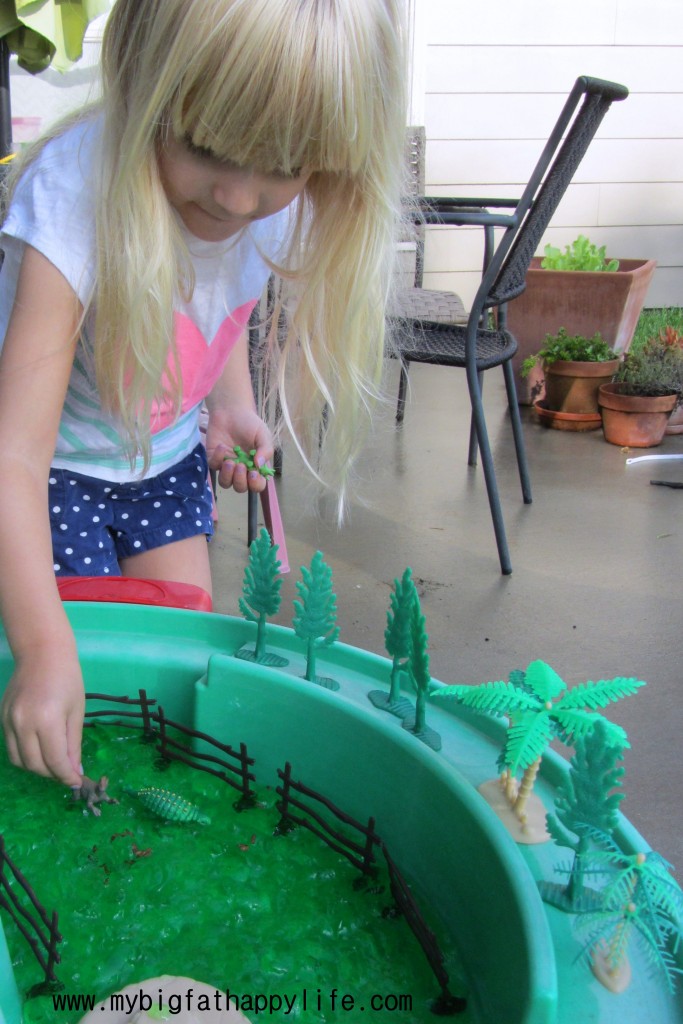 Play Time
S started adding in the dinosaurs and deciding if they like the swamp or would prefer the dirt. Some of the dinosaurs played together others stayed away from each other. S had so much fun squeezing the gelatin through her fingers, sinking the dinosaurs into the swamp and pulling them back out.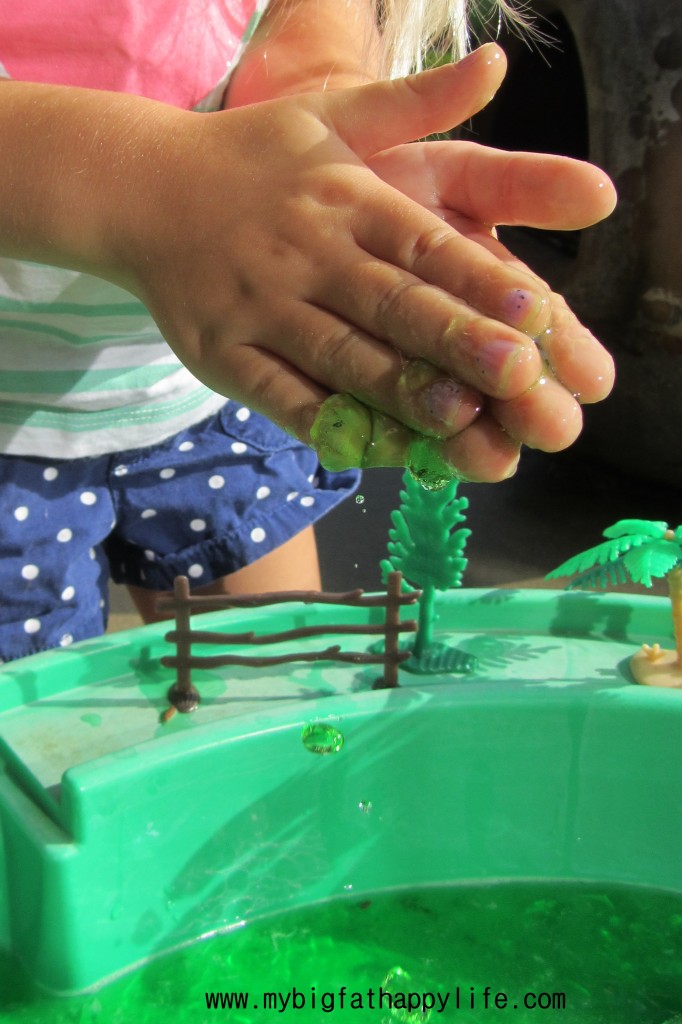 S played and played and played creating different scenes, moving the dinosaurs from the swamp to the dirt and back again. We talked about the different types of dinosaurs and which ones eat meat and which ones eat plants.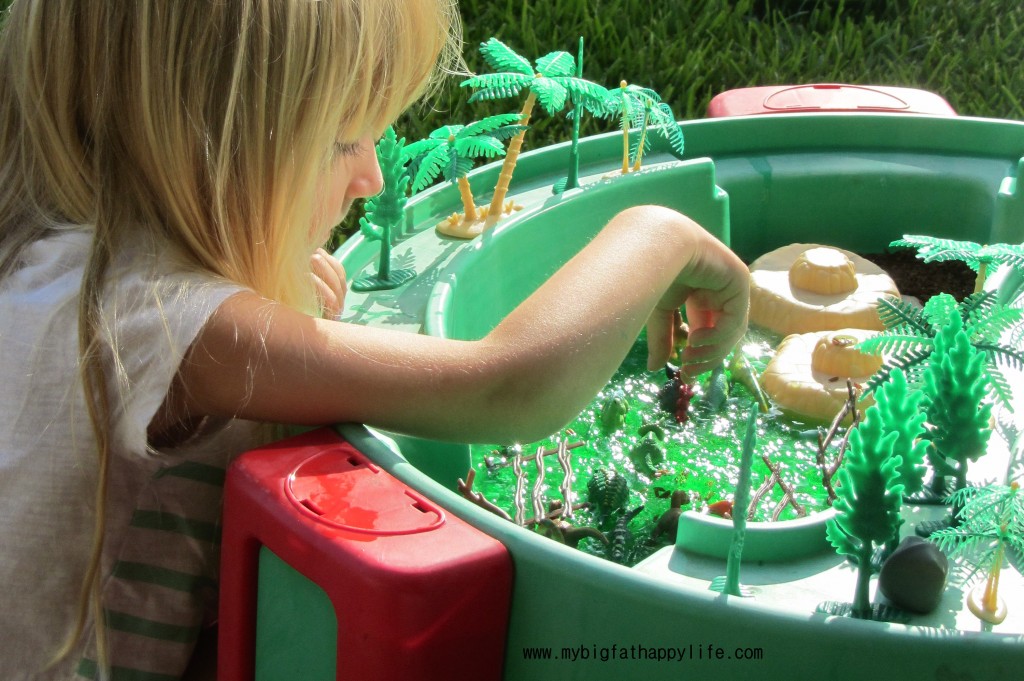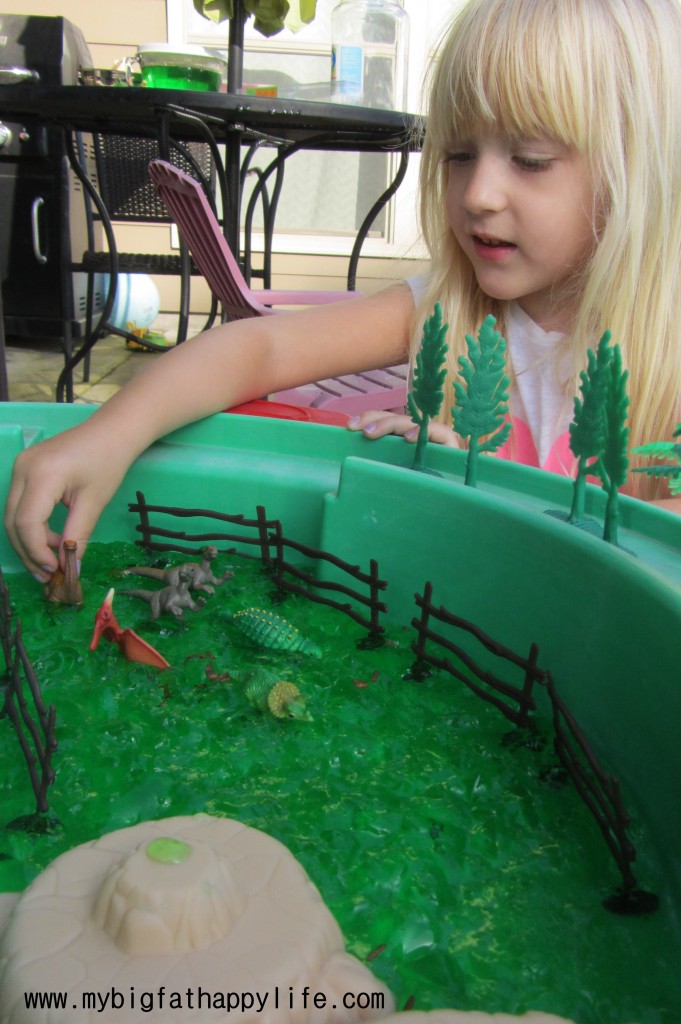 When the sun got too hot, we moved the water table into the shade to continue with the playing. By the end, the swamp had lost all of its gelatin and turned to green water from the heat. Which created even more fun as the swamp mixed with the dirt.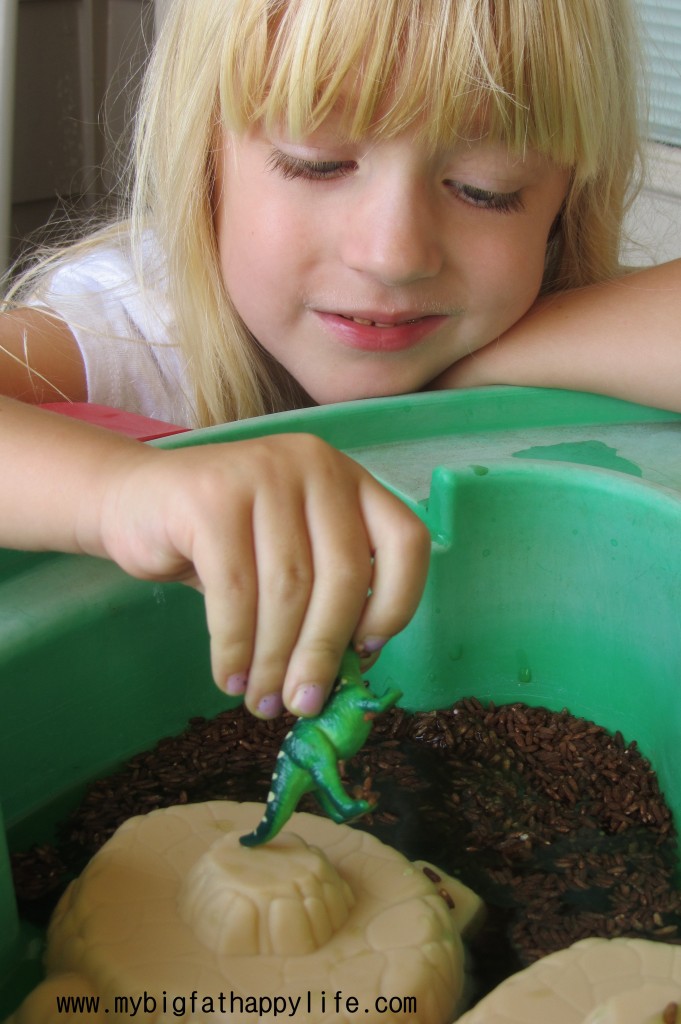 Check out some of our other small world play activities here.
For more fun activities using a water table, check out this post.

You may find me linking up with the following: Mon: Magic Moments; How Do You Do It? Parenting Linkup; Made by You Mondays; Creative Mondays; Click and Chat Social Media Link Up; Merry Monday Linky Party; Tue: Treasure Box Tuesday; Turn it Up Tuesday; Good Tip Tuesdays; Project Life Tuesday; Lou Lou Girls Link Party; Delicious Dish Tuesday; SoMe2; Wed: The Wednesday Roundup; The Super Mommy Club Party; Centerpiece Wednesday; Whatever Wednesday; Retro Repin Party; Wake up Wednesday; Creative Spark; Thur: Weekly Kids Co-Op; The Pin Junkie Pin Party; Thrify Thursday; On Display Thursday; Fri: Pretty Pintastic Party; Foodie Friends Friday; That's Fresh Friday; Family Fun Friday; For the Kids Fridays; Craft Frenzy Friday; Product Review; Friday Favorites; Weekends: Show and Share Saturday; Country Kids with Coombe Mill; The Weekend Social; Snickerdoodle Sunday; Ultimate Link Party; Coast to Coast Blog Post Party