This shop has been compensated by Collective Bias, Inc. and its advertiser. All opinions are mine alone. #LiveLoveColor #CollectiveBias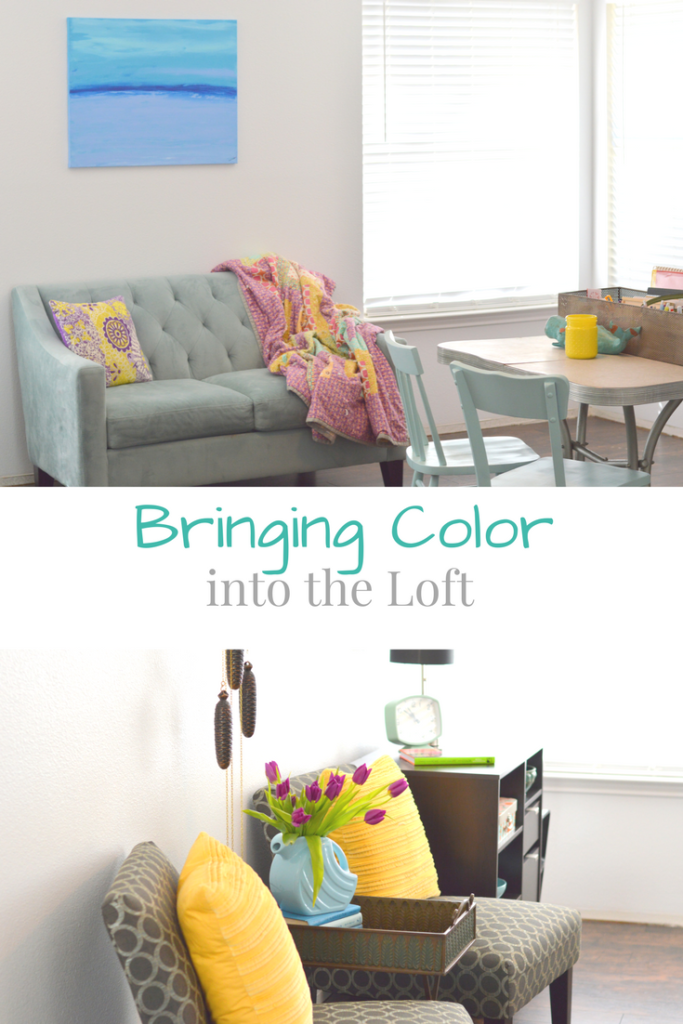 A couple weeks ago I talked about reading the new book Change Your Home, Change Your Life™ with Color by Moll Anderson. I was looking for color advice and color inspiration for my loft in my new house. The loft is an additional space for us that we will use to play board games, put together a puzzle and where my daughter can do arts and crafts. Plus the room will serve as a guest room when we have visitors.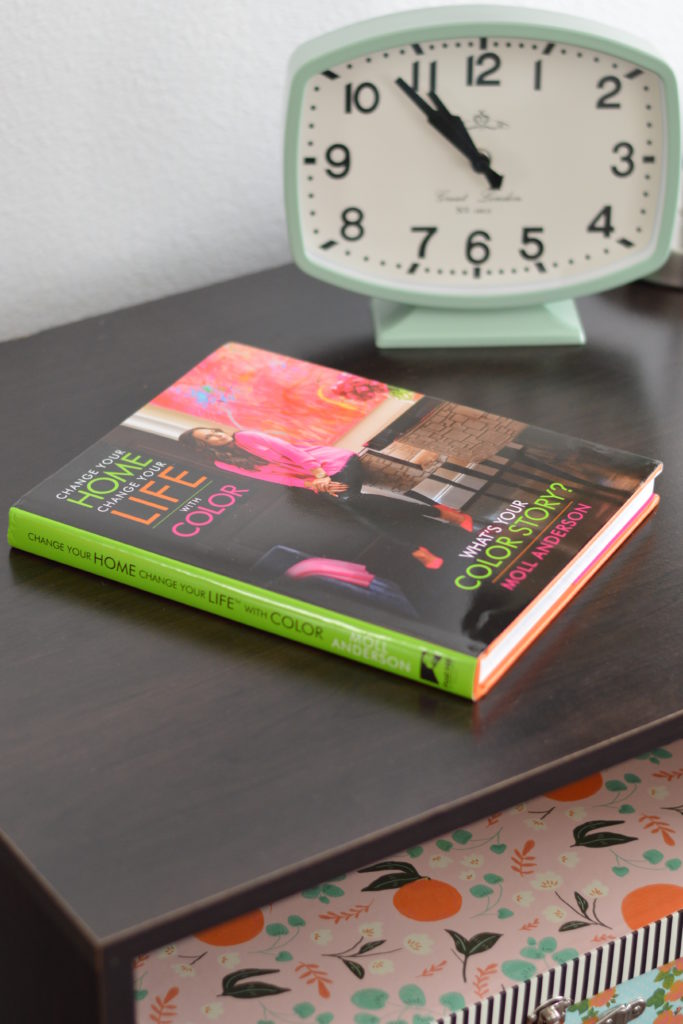 If you did not read my post a couple weeks ago you may be wondering what Change Your Home, Change Your Life™ with Color by Moll Anderson is about. The book teaches you why you feel a certain way about colors because your feelings to colors are rooted and based on your personal life. The book is full of beautiful, vibrant pictures that help you look at color in a fresh way. Understanding why you love or dislike certain colors is the key to exploring your own personal color story. Change Your Home, Change Your Life™ with Color by Moll Anderson teaches you how you can transform a room, your mood and well-being depending on the colors you use.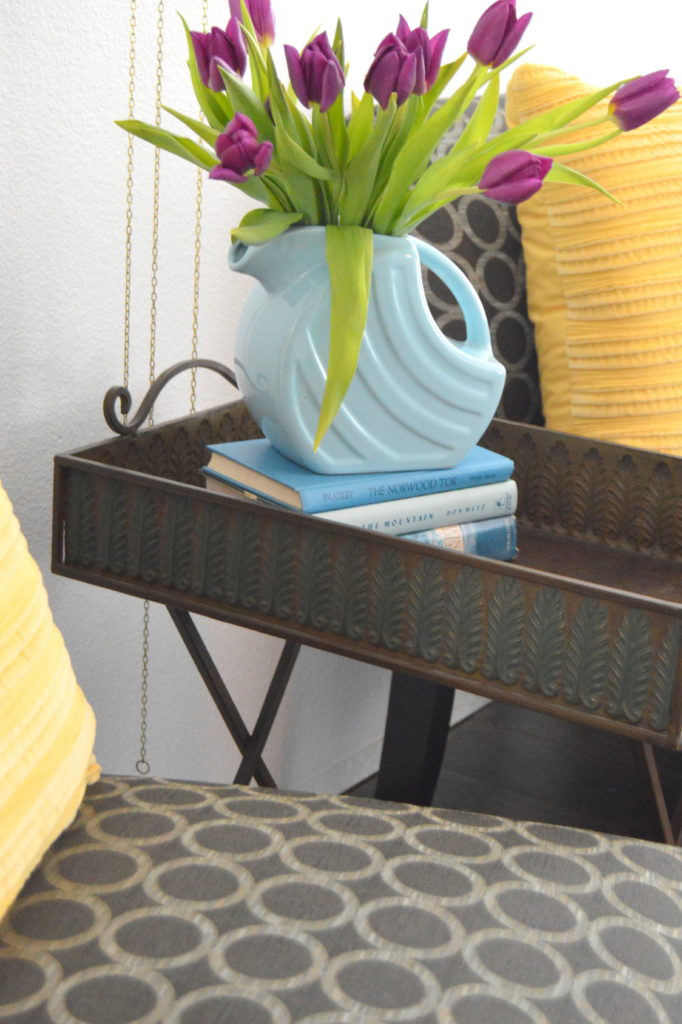 Moll Anderson is an inspirational interior designer that provides real-life examples, photos from her own homes and offers advice throughout her book. What makes Moll Anderson different is that she also inspires you to look at your whole life and emotions when it comes to color. Moll Anderson also includes guided journal pages that will assist you in exploring your personal connections to color.
The Loft
I want our loft to feel like a grown-up space while still being comfortable and inviting. Since the loft was an extra space we didn't have in our old house it became the dumping ground when we moved in. Anything I didn't know what to do with or I wasn't ready to unpack yet went into the loft. It was in terrible shape and embarrassing! Time for a change….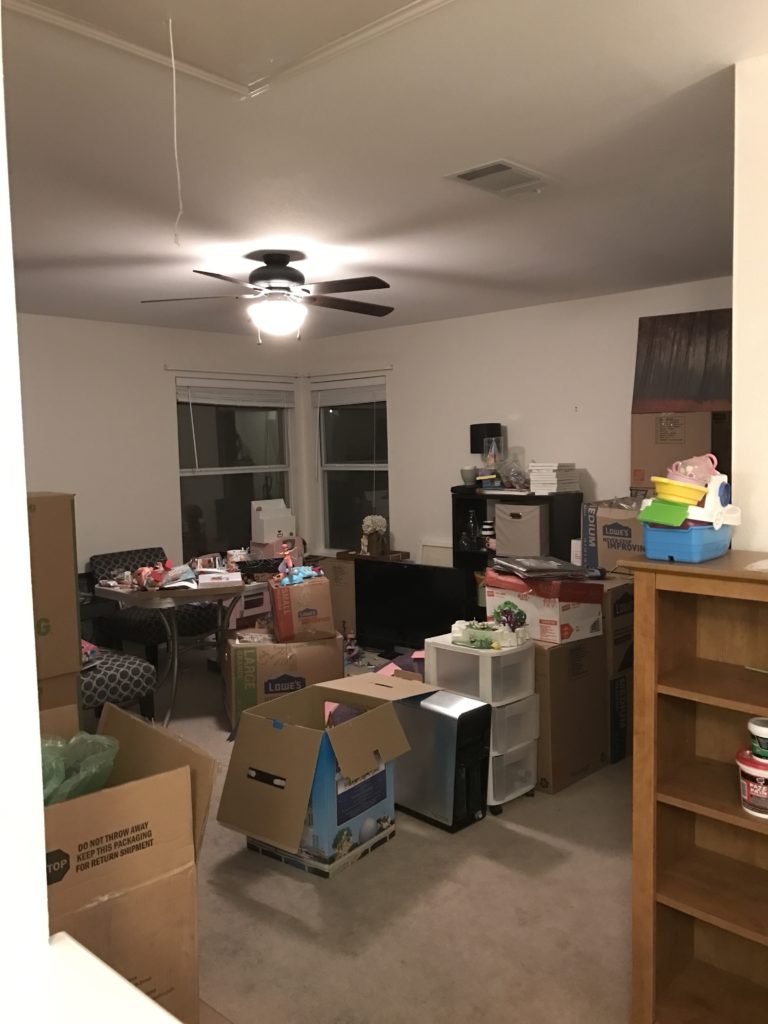 One of the easiest changes you can make to a room is to paint it. I have repainted every room in our house and I love how it has made each room feel fresh and clean. For the loft, I went with a light gray that helps brighten up the room. This house tends to be on the darker side even with lots of windows and having the blinds mostly open, so the light walls help the light bounce around. I also really like a neutral on the wall, so that I can add pops of color throughout the room.
We removed the 10-20-year-old carpet and in one weekend the room went from sad to beautiful! New floors, new paint and an assembled room. Time to decorate…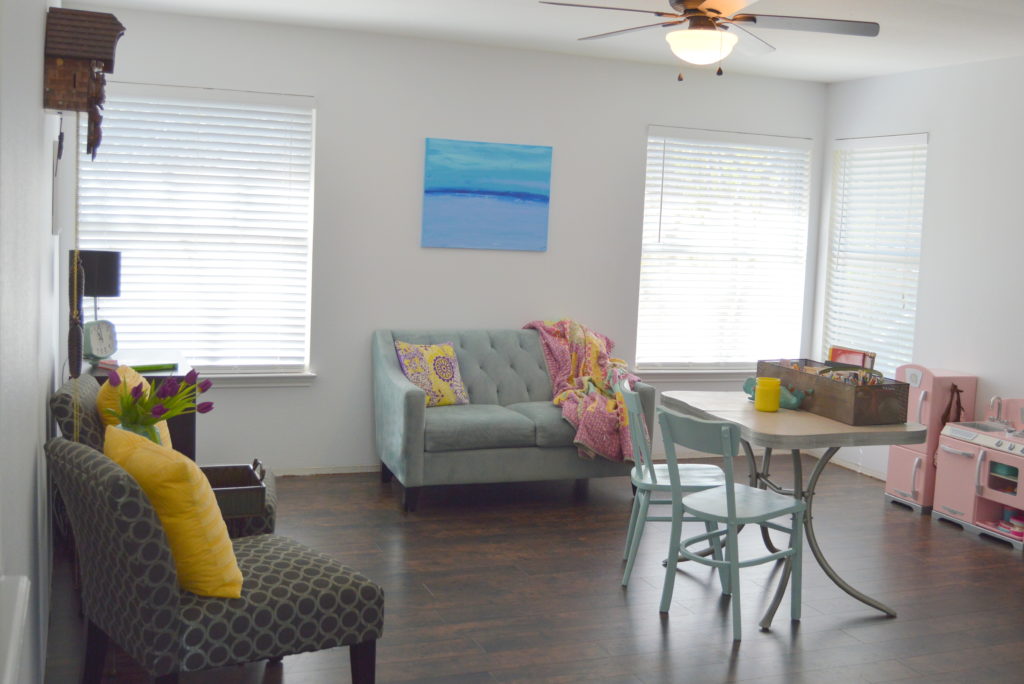 When I read Change Your Home, Change Your Life™ with Color by Moll Anderson it helped me overcome my dislike for the color yellow. I learned that pops of purple and yellow with turquoise were drawing me in. It was not a combination I would have ever considered previously.
I wanted a large painting in the loft, but instead of going out shopping for one I took a blank canvas I had sitting around and splashed it with large brush strokes in various blues and purples. No, I am not an artist! The moral of this story is that anyone can make a piece of art! The painting is hanging over the couch and I love it!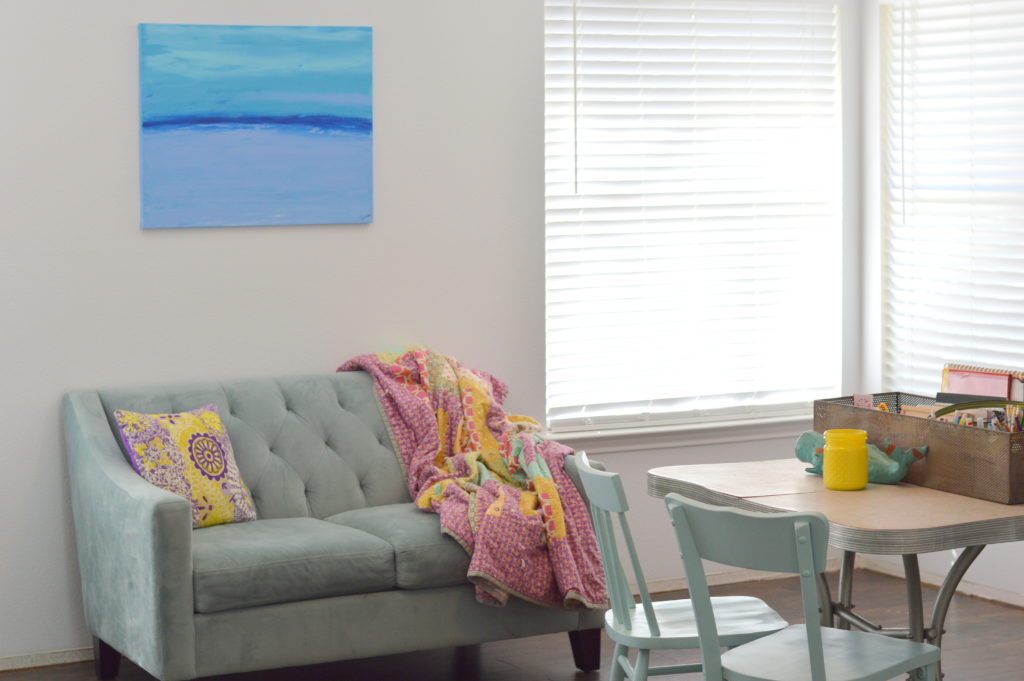 I also added two paintings that my daughter made that also feature the color purple. I love to display my daughter's artwork around the house!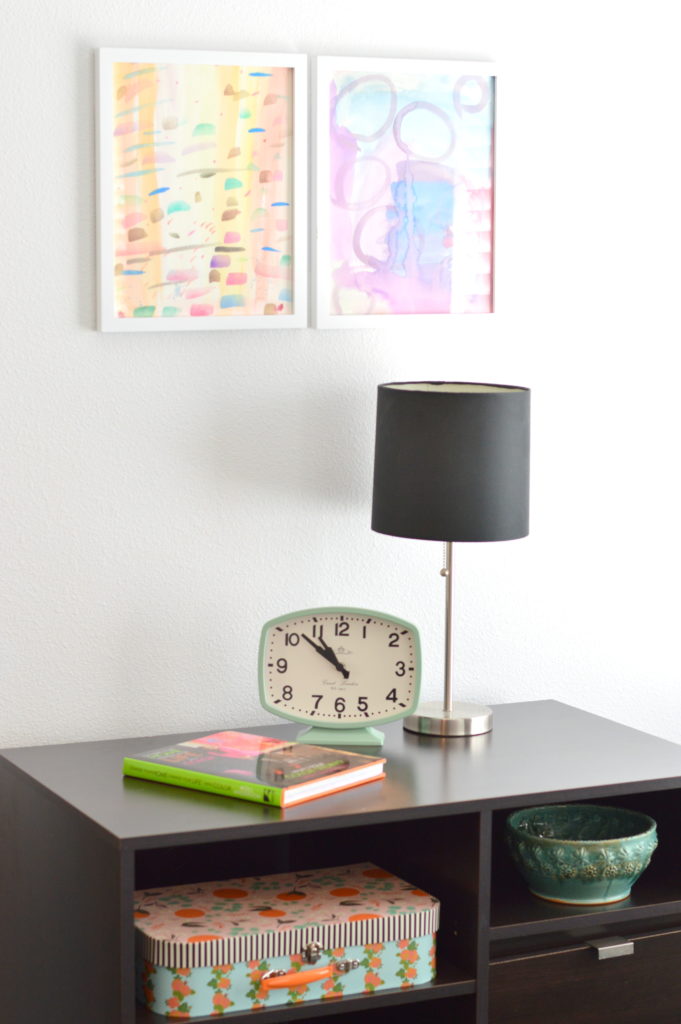 I added pops of purple and yellow on pillows to my sofa and chairs and flowers in a vase in the room. The two large cabinets store lots of games, puzzles and Legos. On top of both the cabinets and bookcase, I have vintage suitcases for extra storage of items we do not need frequent access to.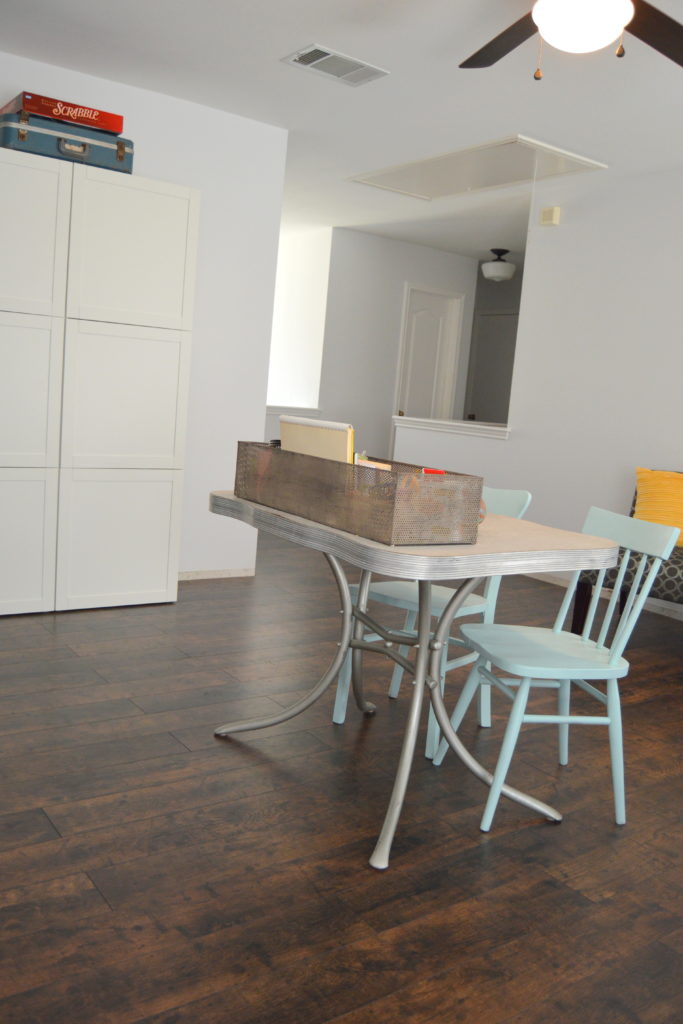 The metal container on the table is full of crayons, markers, colored pencils, stamps and paper for my daughter. I love having this table in the loft because it gives us a place that we can leave a large puzzle out while we work on them. I also spray painted the chairs at the table. This is a great way to add a pop of color to your room, to update older pieces and to match chairs that are not the same.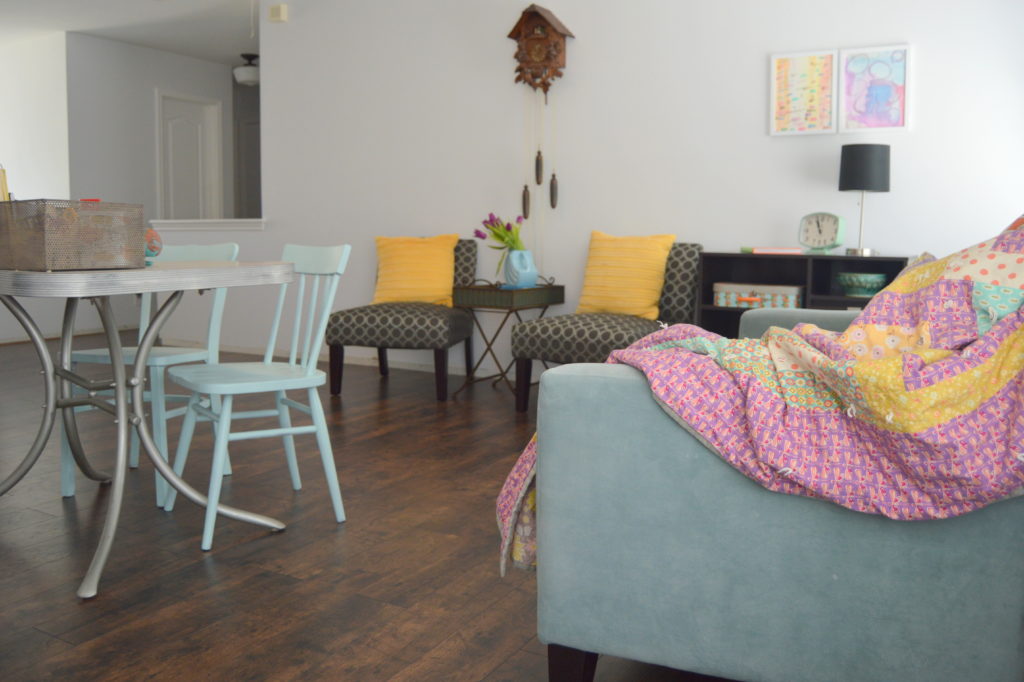 I am so excited to finally have our loft finished and decorated! It makes me feel so good to be able to accept our first guests into this space in a few weeks.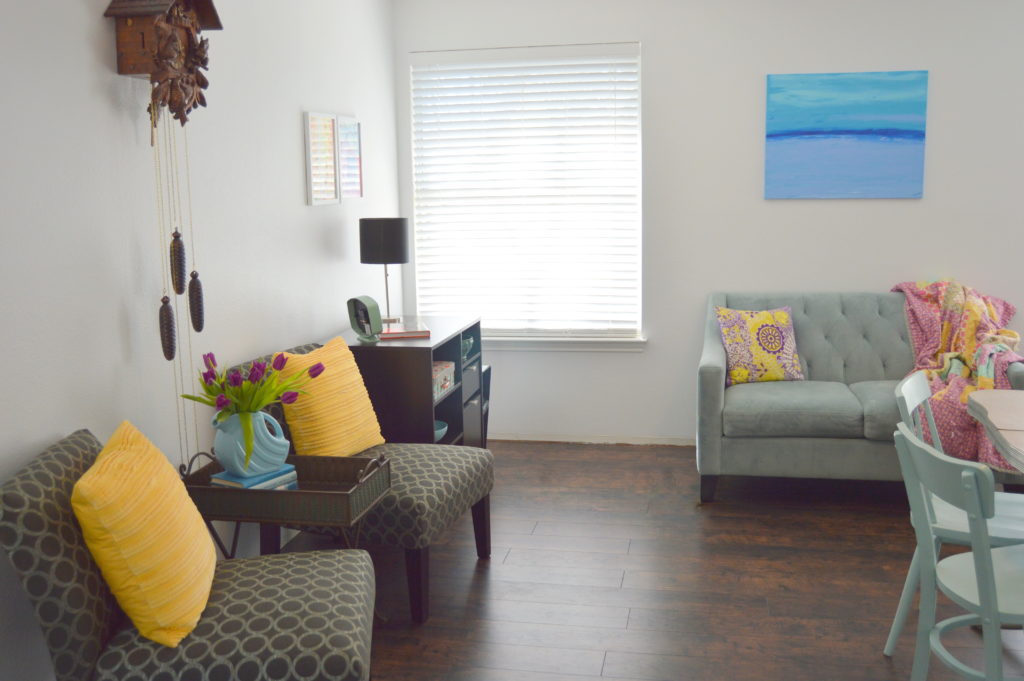 Change Your Home, Change Your Life™ with Color by Moll Anderson is now available at Target in the non-fiction book section within the electronics/entertainment section of the store.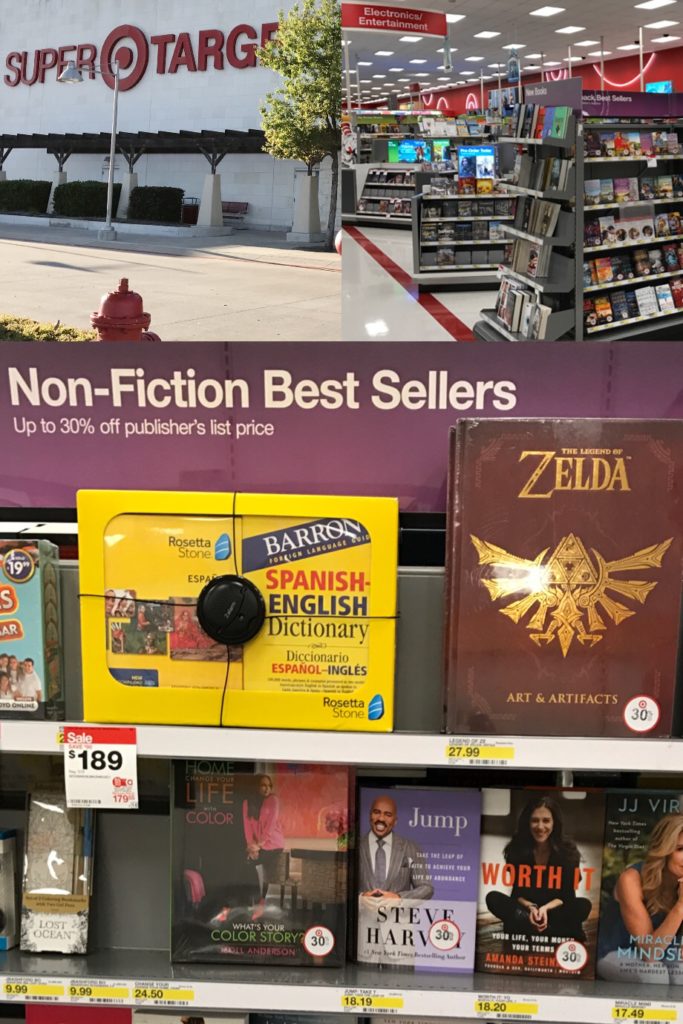 Stay up to date on the latest from Moll Anderson on Twitter, Pinterest, Instagram and YouTube.
Are you living in color?