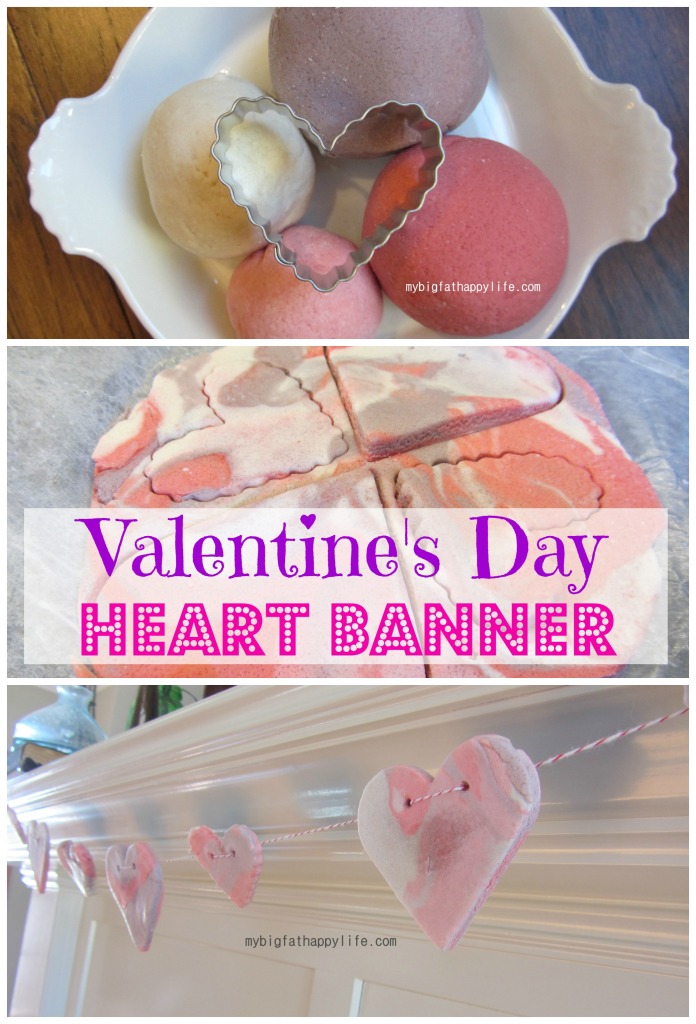 With Christmas decorations put away my mantel is feeling a little bare 🙁 S and I had made a Valentine's Day Heart Banner last year and I think it's time to pull it out. The hearts are made out of marbled salt dough and strung together to form a banner. The perfect addition to my mantel.
Salt Dough
To make the salt dough mix together:
1/2 cup of salt
1 cup of flour
1/2 cup of water (you may not need all of it)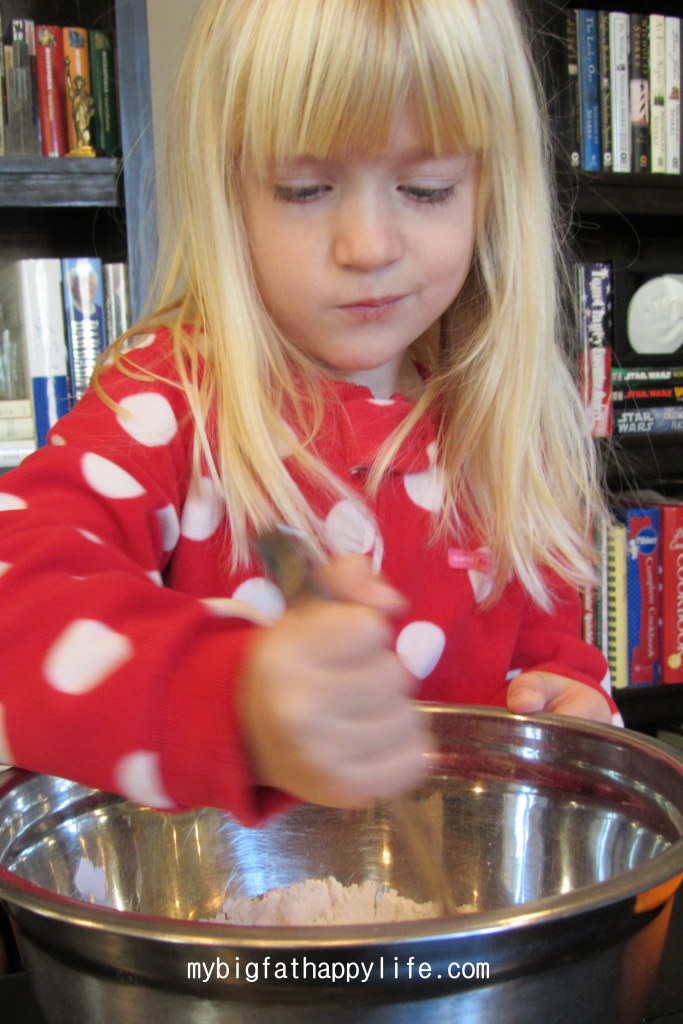 You want the salt dough to be well combined but not sticky. If your dough is dry add more water, if it's sticky add more flour. Divide the salt dough into as many colors as you want and then mix in food coloring.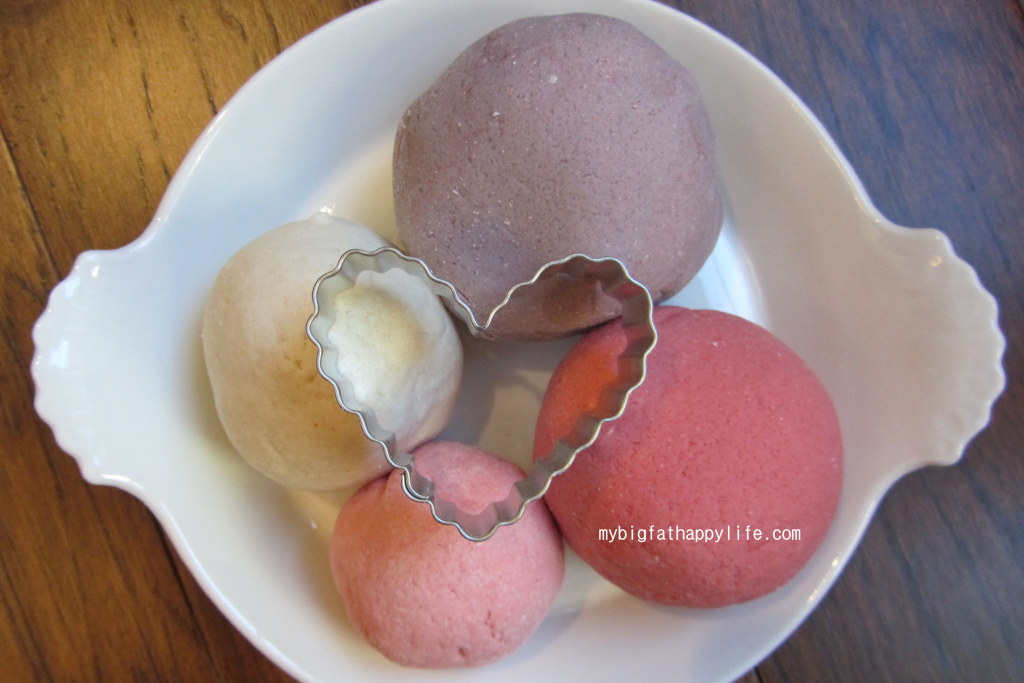 Make small balls of dough and then create one big mountain of salt dough. Smash the mountain flat and roll out. Remember you want the dough to be marbled. We used several different sizes of heart cookie cutters, but you could just use one size.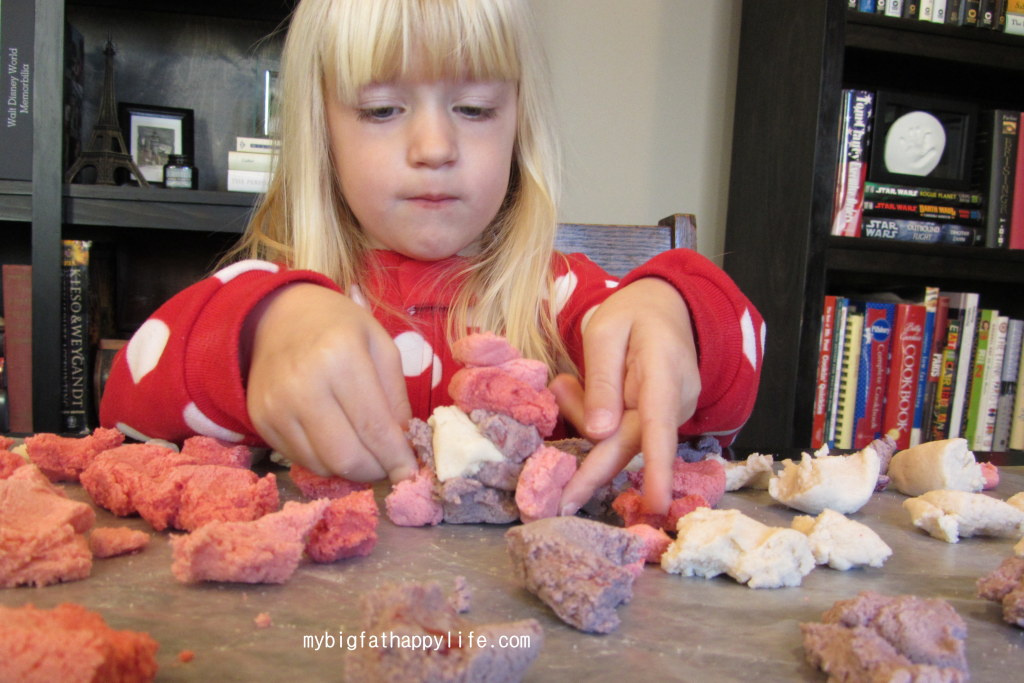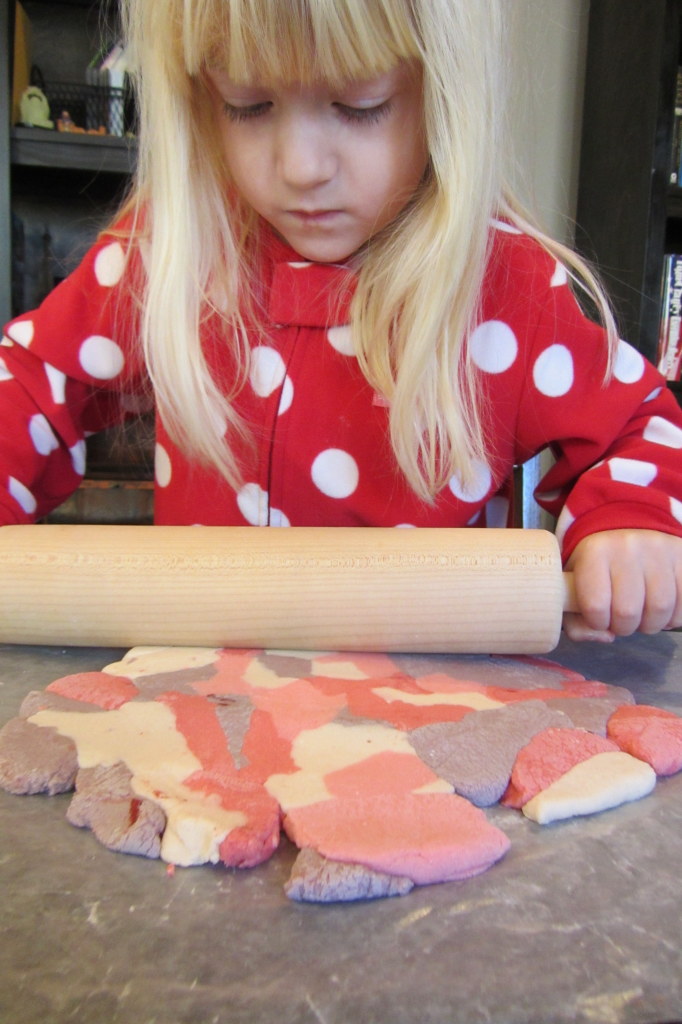 Once the hearts were cut out I used a bamboo skewer to make holes for the string. To dry the salt dough place in the oven on cookie sheets on the lowest heat setting for several hours flipping every 30 minutes.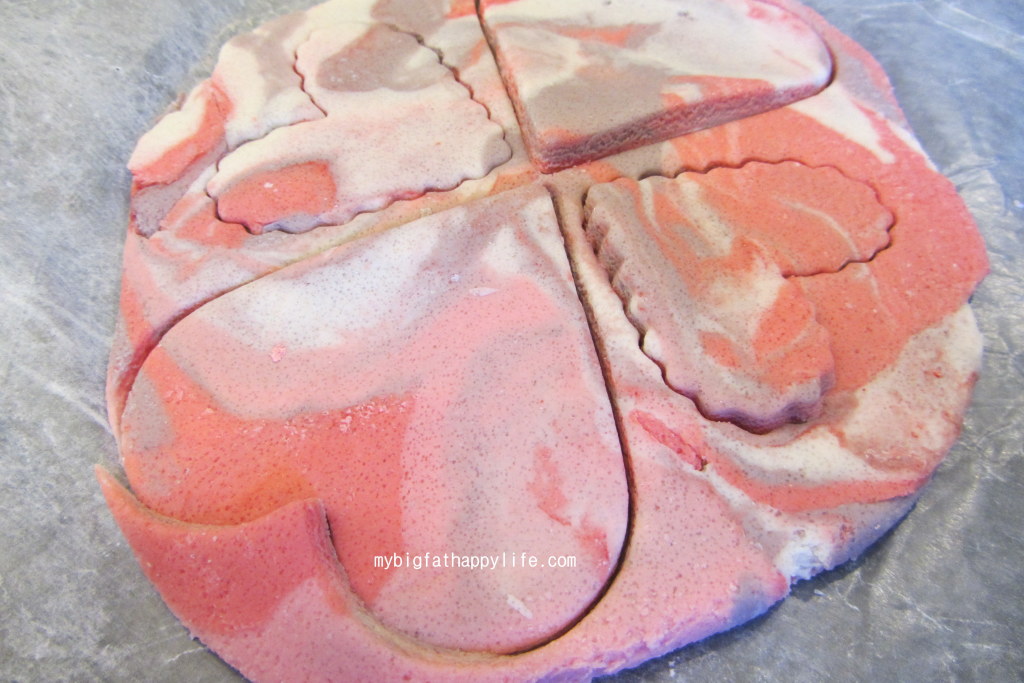 Another option is to microwave like we did for our salt dough patriot star banner last summer. Place the salt dough shapes in the microwave for 2 minutes and then flip them for 2 more minutes. The dough should be dry, if it is not dry keep cooking in 30 second intervals until dry. While the microwave worked, they were a little poofy in places.
Once the hearts were dry we painted two coats of mod podge on the hearts including the sides and backs (S did one coat on each front before I lost her).
To assemble the banner measure out the length of string (I used baker's twine) you need for your area and then add two feet. I start with the center heart feeding the twine through the holes and then tying knots behind each hole to keep the heart in place. I continue feeding the hearts onto the twine and tying the knots. Then I tied a loop on each end to use for hanging.
To hang the banner, I used two small Command Strip hooks stuck to the top of my mantel. If you saw my post about arranging multiple picture frames in a grid, you know that I LOVE my Command Strips!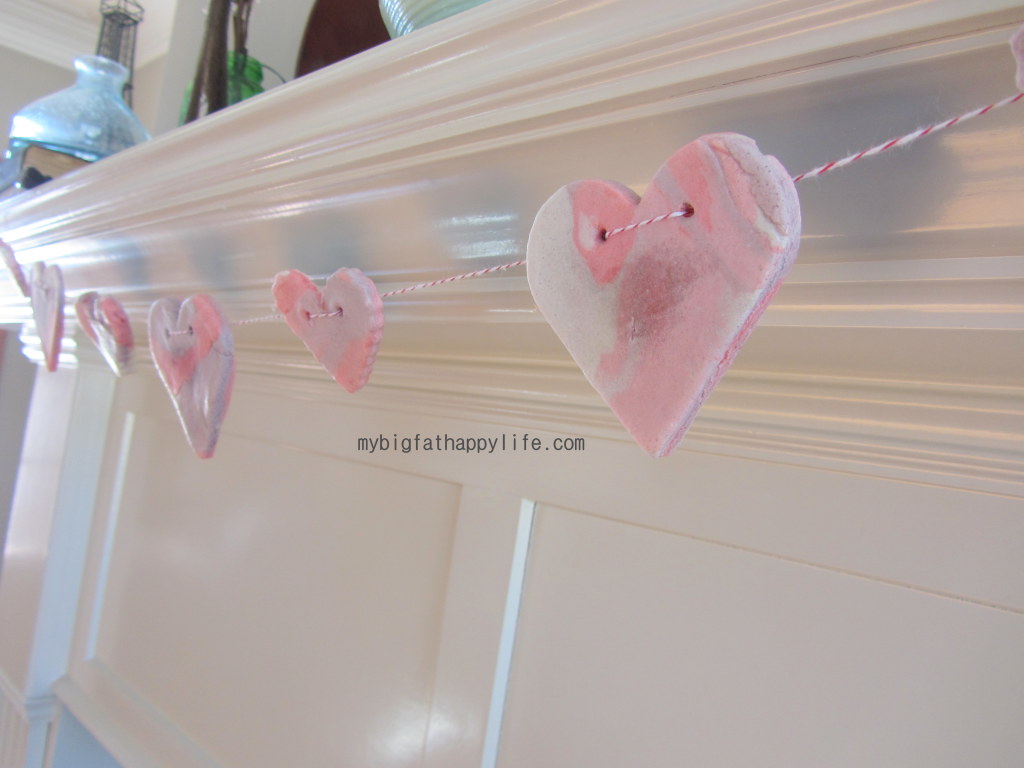 You may find me linking up with the following: Mon: Magic Moments; How Do You Do It? Parenting Linkup; Made by You Mondays; Creative Mondays; Click and Chat Social Media Link Up; Merry Monday Linky Party; Motivational Monday; Weekend Wanderlust;Tue: Treasure Box Tuesday; Turn it Up Tuesday; Good Tip Tuesdays; Project Life Tuesday; Lou Lou Girls Link Party; Delicious Dish Tuesday; SoMe2; Wed: The Wednesday Roundup; The Super Mommy Club Party; Centerpiece Wednesday; Whatever Wednesday; Retro Repin Party; Wake up Wednesday; Creative Spark; A Little Bird Told Me; Thur: Weekly Kids Co-Op; The Pin Junkie Pin Party; Thrify Thursday; On Display Thursday; Fri: Pretty Pintastic Party; Foodie Friends Friday; That's Fresh Friday; Family Fun Friday; For the Kids Fridays; Craft Frenzy Friday; Product Review; Friday Favorites; Weekends: Show and Share Saturday; Country Kids with Coombe Mill; The Weekend Social; Snickerdoodle Sunday; Show Me Saturday; Ultimate Link Party; Coast to Coast Blog Post Party