Covering what to pack for a Disney Cruise so that you can have the best vacation!
Disclosure: My Big Fat Happy Life is a participant in the Amazon Services LLC Associates Program, an affiliate advertising program designed to provide a means for sites to earn advertising fees by advertising and linking to amazon.com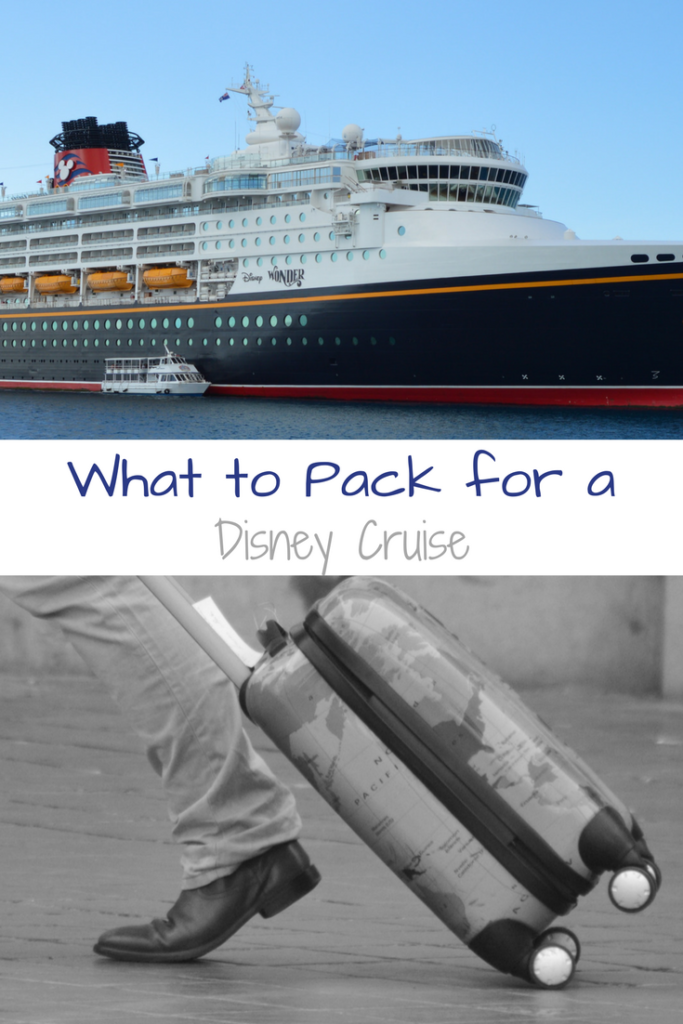 Have you booked your Disney Cruise, booked excursions, and picked out your stateroom? You are ready to start your vacation, but before your magical vacation can start you have to pack your bags! Double check and make sure that you have pack these items so that you can have the best vacation EVER!
Trust me if this is your first Disney Cruise you are going to have an amazing time! Be prepared to be spoiled and become addicted to cruising with Disney!
What to Pack for a Disney Cruise
Waterproof case for phone or camera – Perfect for the pool or the beach!
External charger for the phone – You do not want to miss out on capturing any moments, therefore an external charger will allow you to charge your phone while on the go.
Multi-USB charger – There are a limited number of electrical outlets in the staterooms, so in order to charge multiple devices at one time a multi-USB charger is the perfect solution (Disney does not allow power strips to be used).
Autograph book – Collect Disney character autographs throughout your cruise.
Door Magnets – On a Disney ship, the stateroom doors are a work of art and some people go all out. I enjoy having these Mickey word cloud magnets for our cruises.
Beach bag
Formal attire
Pirate costume, Princess costume or other themed event costumes – Dressing up is so much for Disney parties including pirates night, meeting the Princesses, Halloween, etc. Be prepared and bring your costumes along so that you do not have to purchase on the ship.
Highlighter for daily activities schedule – This is a quick and easy way to map out your day and to remember what you wanted to do.
Nightlight – Staterooms, particularly inside staterooms, can be a crucial item to see in the middle of the night.
Seasickness pills – If you are unsure if you may experience seasickness, I highly recommend bringing aboard MotionEaze and ginger root capsules. As someone who does get slightly car sick, I have found that taking one ginger root capsule a day starting the day before we board the ship, allows me not to feel seasick during our cruises. I have learned though that I have to continue to take the capsule even if I am not feeling sick at all to help prevent the feeling before it starts. MotionEaze is an oil that gets placed behind your ears, it smells like peppermint and is also safe for children. MotionEaze has helped me out when I have forgotten to take the ginger root capsules and the oil works within minutes. I have also used MotionEaze on my daughter a couple times when the waves were really rough and she started not feeling well.
Band-Aids – For the occasional scratch, cut, and even bug bite a band-aid is useful, especially if you have kids. Sure they will have them on the ship, but it's just easier to already have them on hand.
Ibuprofen or other pain medication – Whether it's a headache, cramps, or tense legs from walking all day, you'll probably want some pain relief. Be prepared with your medicine of choice. Don't forget medicine for your kids too.
Air freshener – There is no fan in the bathroom!
Reusable water bottle – Instead of buying water bottles each day you head into port, bring a reusable one. I recommend a refillable aluminum water bottle because it keeps the water cold and the bottle does not sweat, so I can place the water in my purse or our backpack and not be afraid of what it will ruin.
Sunscreen – You do not want to look like a lobster after your vacation!
Bug spray – Very important if you are visiting any tropical ports, also make sure it replies fleas to protect against sand fleas.
Hat/Sunglasses
Wristwatch – That why you always know what time it is so you do not miss dinner and you know when you have to back on the ship. Be sure to keep it set to the ship's time throughout your voyage.
Lanyard for your key card – If you are a Castaway Club member you will receive a lanyard at check-in, otherwise you will want to bring one so that it is close at hand to enter your stateroom, for purchases, and to use when you disembark and embark on the ship.
Water shoes – Depending on the ports and you excursions, water shoes could be an essential.
Umbrella – Depending on your destinations, you may want to bring an umbrella.
Laundry bag for dirty clothes – Using a pop-up hamper is a great way to keep your laundry corralled and your room clean during your trip.
Laundry detergent – If you do plan to do laundry onboard your ship, be sure to bring a travel-sized laundry detergent and a dryer sheet.
Wrinkle release spray – Is a quick, easy way to have your clothes look presentable after being packed in your suitcase.
Ziplock bags – You can use a ziplock bag for so many things like your child's soiled or wet clothes, keeping your cell phone and camera safe on the beach from sand and surf, and for snacks/unfinished food. Stash a few in your bag just to be prepared.
Have you cruised before? Did I miss anything that is a must for you?