Disclosure: My Big Fat Happy Life is a participant in the Amazon Services LLC Associates Program, an affiliate advertising program designed to provide a means for sites to earn advertising fees by advertising and linking to amazon.com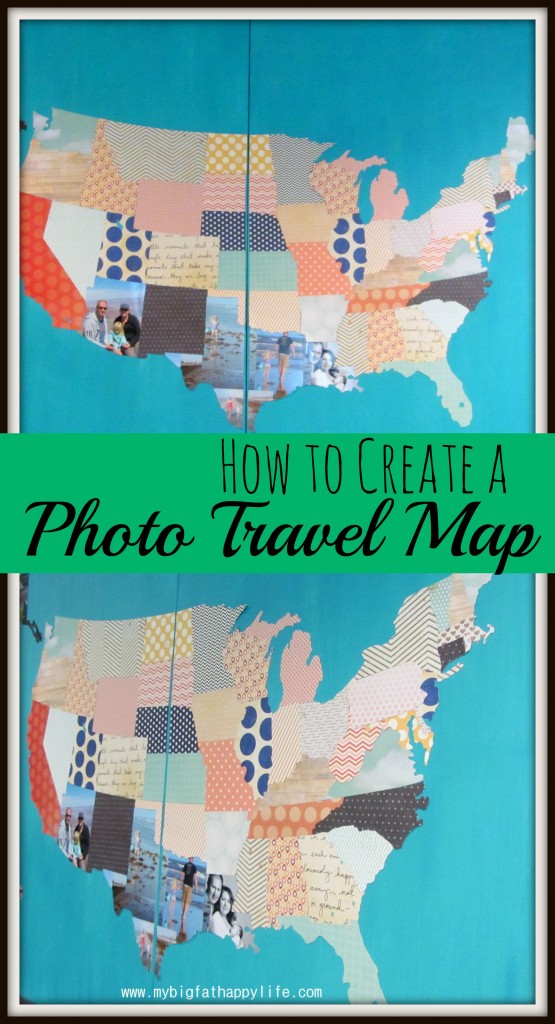 I have several items on my bucket list. One that I decided on after S was born was to take her to visit all 50 states before she graduates from high school. That does not mean driving through a state. It means actually exploring the state…visiting museums, state parks, tourist attractions, etc. I believe that exposing S to different experiences, activities and travel is very important.
When we decide on our next state to visit, I am the one that does all the research, but then I ask my husband and S what they would like to do from my research. We try to get a good mix of experiences while in a state. We also try out local restaurants with no chains that are in our area.
We have been lucky enough to have already visited Alabama, Arizona, Florida, Louisiana, Minnesota, Texas, Wisconsin and the two farthest Alaska and Hawaii. Nine out of fifty is not too bad since S is only 4.
With all this traveling, I wanted a special memento that would continue to grow as we visit additional states. I decided on a photo travel map, which is a canvas (or two) with family photos cut out in the shape of each state to form a map of the US.
Cutting out the States
I have a Cricut cutting machine with the 50 states cartridge (you should also be able to create this using other electronic cutting machines). I gathered up a bunch of scrapbook paper that I love and looked good together. Starting with the largest state in the continental US: Texas I cut it out as large as I could. I made sure that the real dial size is turned off. Then I used that size to cut out all the states.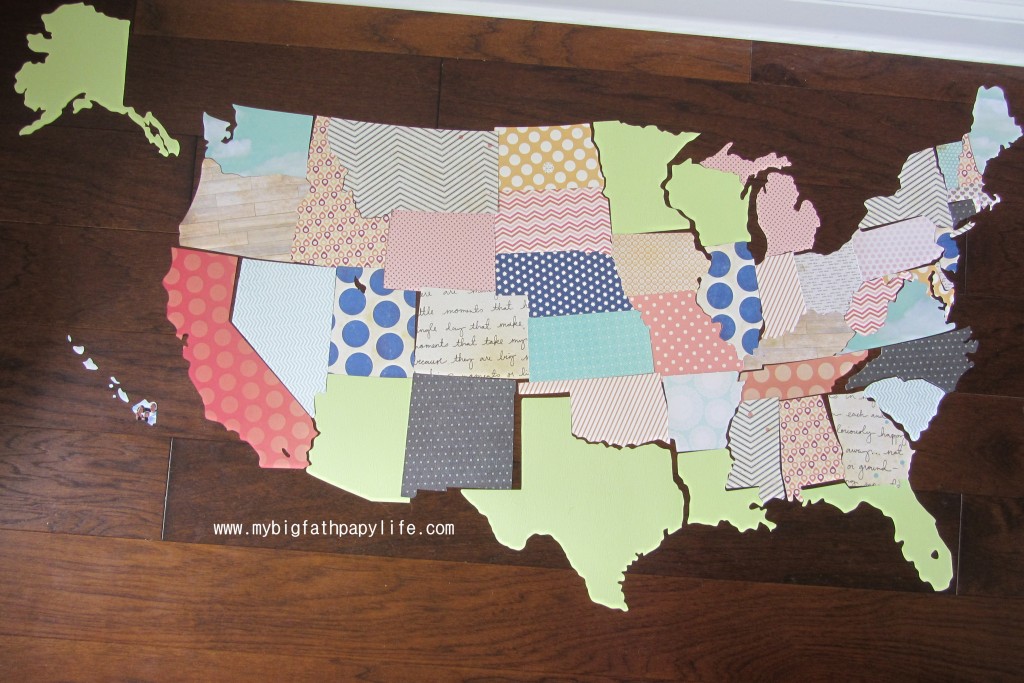 Cutting up the Photos
Using photos from our trips, preferably family photos with lots of background space. I found photos with a lot of background space worked the best due to the size and irregular sides of the states. Some states a 4×6 photo will work, but others you will need larger prints made. Another option is to create a collage which is what I did with Texas and Alaska.
To cut the photos, I lined up the piece of paper that had the outline of the state on it centering on the picture. Then I placed the picture on the Cricut mat based on how the photo lined up with the cut piece. That means sometimes the picture was not square on the mat and I had to trim the photo before sending it through the Cricut. I also hand cut the outline of a couple states, Texas, and a couple islands.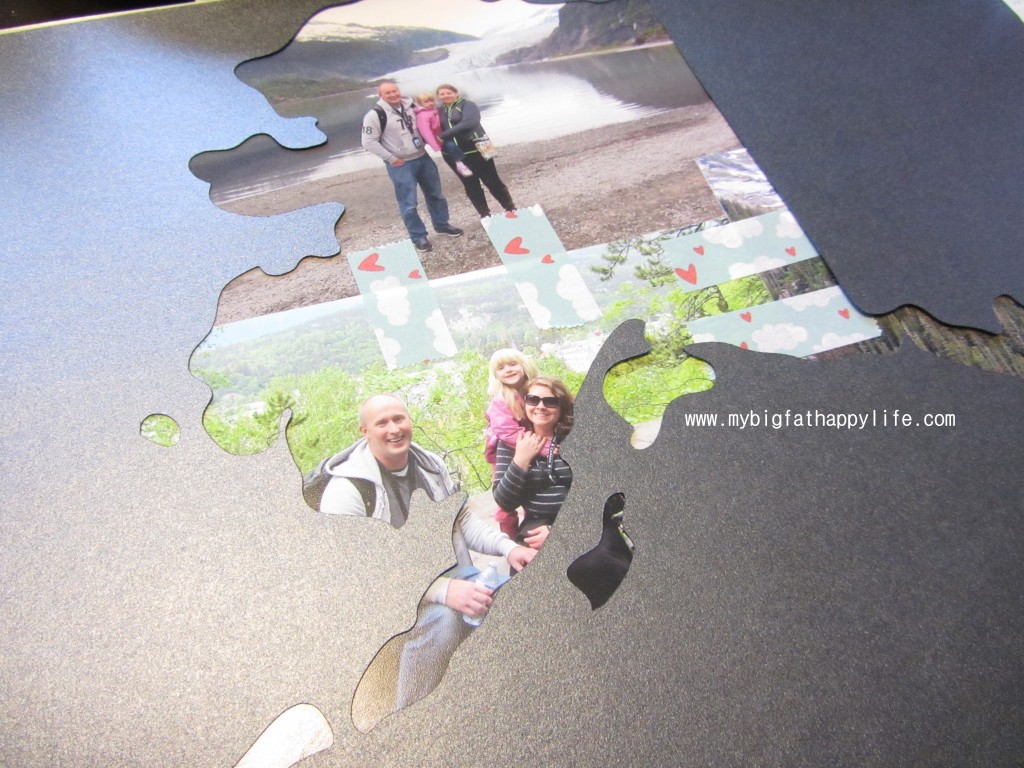 Painting the Canvas
I decided to use two canvases to mount my map on. I bought the canvases at Hobby Lobby using 40% of coupons, so I ended up paying $20.99 for each canvas. I also bought two different acrylic paints that I loosely mixed together because I wanted the canvases to be uneven, not perfect. Make sure to cover your whole canvas and the edges. It just makes it easier (I didn't and I had to go back and paint almost the whole canvas).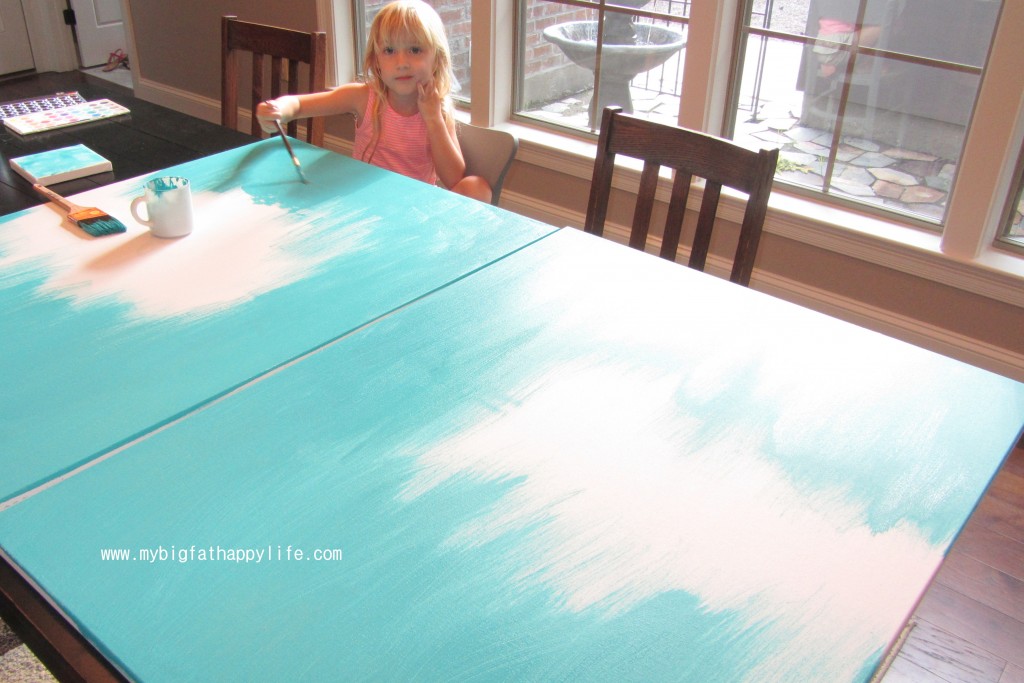 Assembling
Once the paint is dried, I started at the split between the canvases and the center of my map. Because I was using two canvases I had to cut the center states in half. I decided to leave a slight gap so that some of the blue background shows through.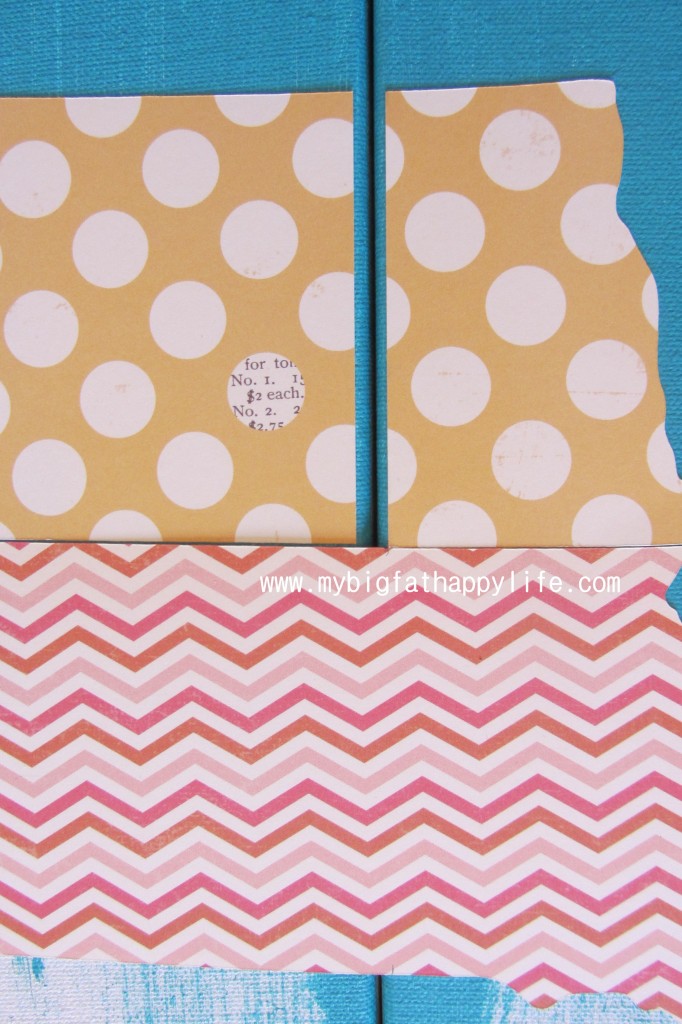 I placed all the states on the canvases, to make sure that I had everything where I wanted. When I was happy I took the first state, top center (North Dakota). Using a pencil, I marked where the canvases met (both top and bottom of the state). Then I used my paper cutter lining up my pencil marks to cut the state.
To adhere the states to my canvases I used a lot of Scotch Advanced Tape Glider (ATG) in permanent. I made sure to use adhesive all the way around the edge of the state and several strips inside the state. Once the first state was adhered I started fitting the other states around. I tended to work off the center. Assembling did not take long. I added Alaska and Hawaii to the side with Alaska up and Hawaii down.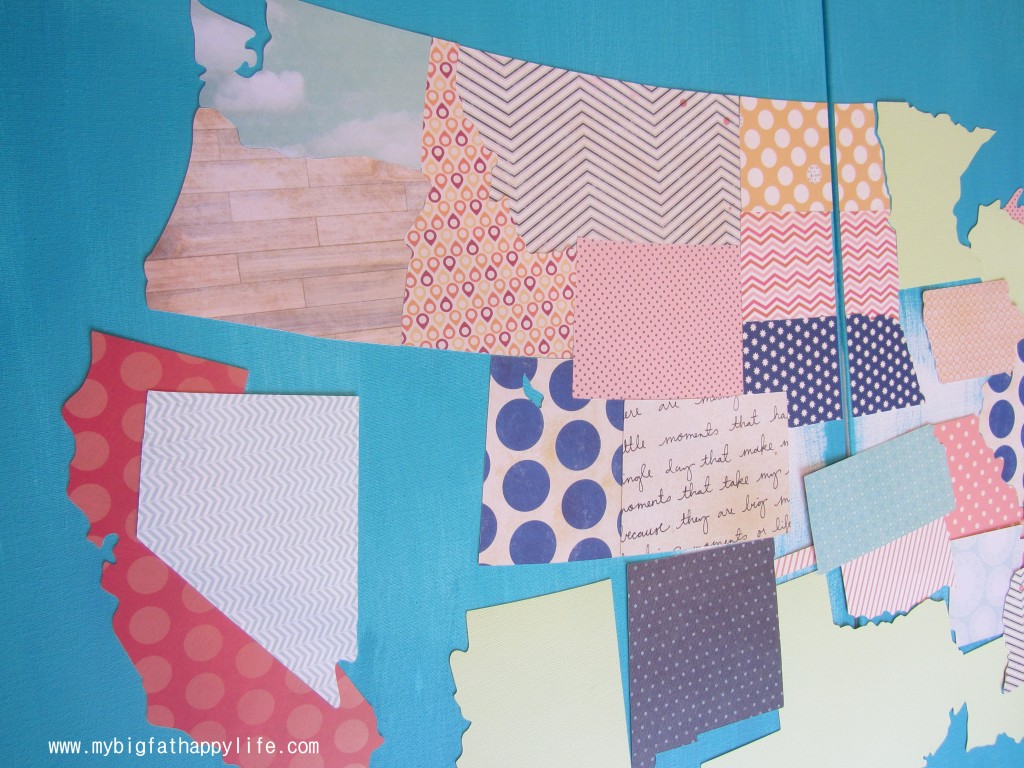 Hanging
To hang the canvases we used Command Strips in large (here is a post about my love for command strips) and hung this huge piece of art above our bed. We had a large blank wall, so it was a perfect fit.
*Note: you will see that I have scrapbook paper states instead of photos for some states we have visited and that's because I need to print a different photo with a larger background.
I am so in love with this project! I am super excited to continue switching out scrapbook paper states for photos as we move closer to completing this journey. You can find an update on my Photo Map here.