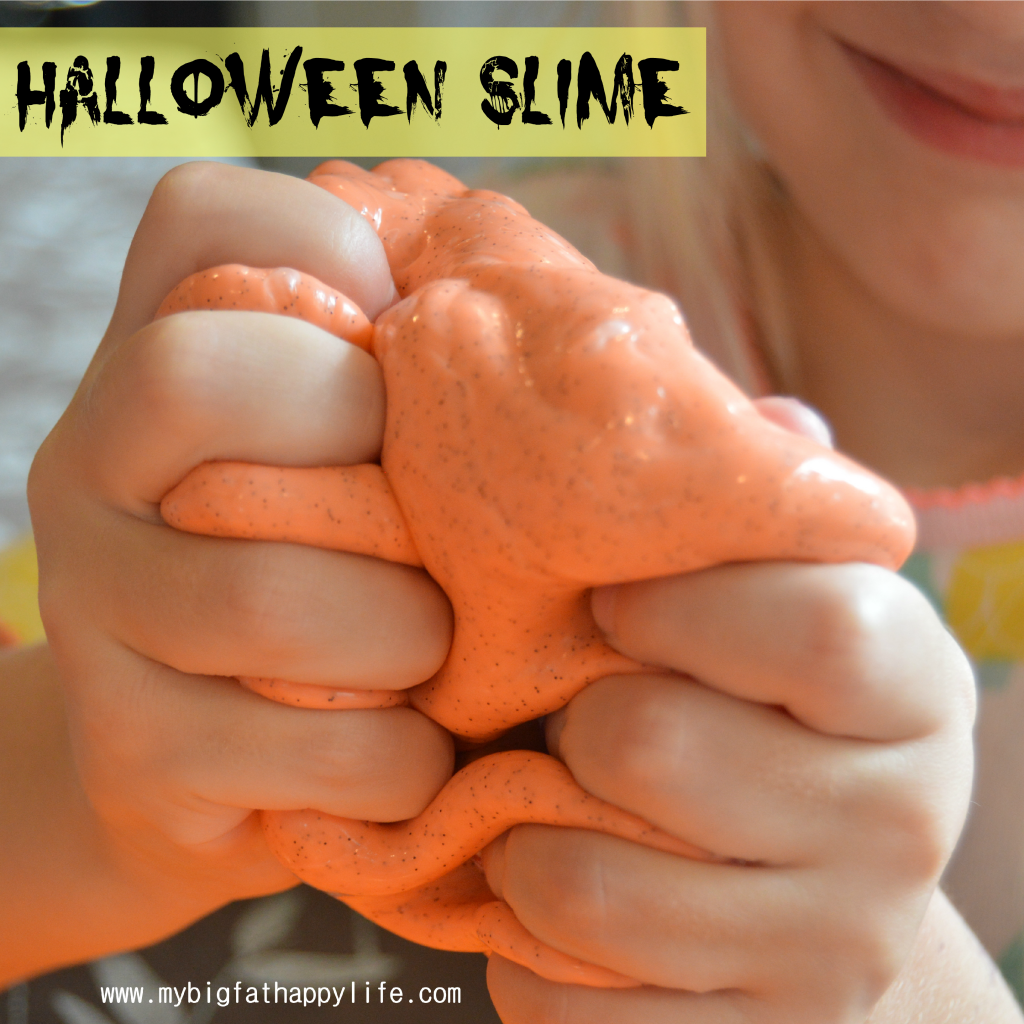 Halloween is the perfect time of year for slime! It's ooey, gooey and oh so much fun! We decided to make orange slime with black glitter in it for Halloween. Making slime is so easy and you should have most items on hand already.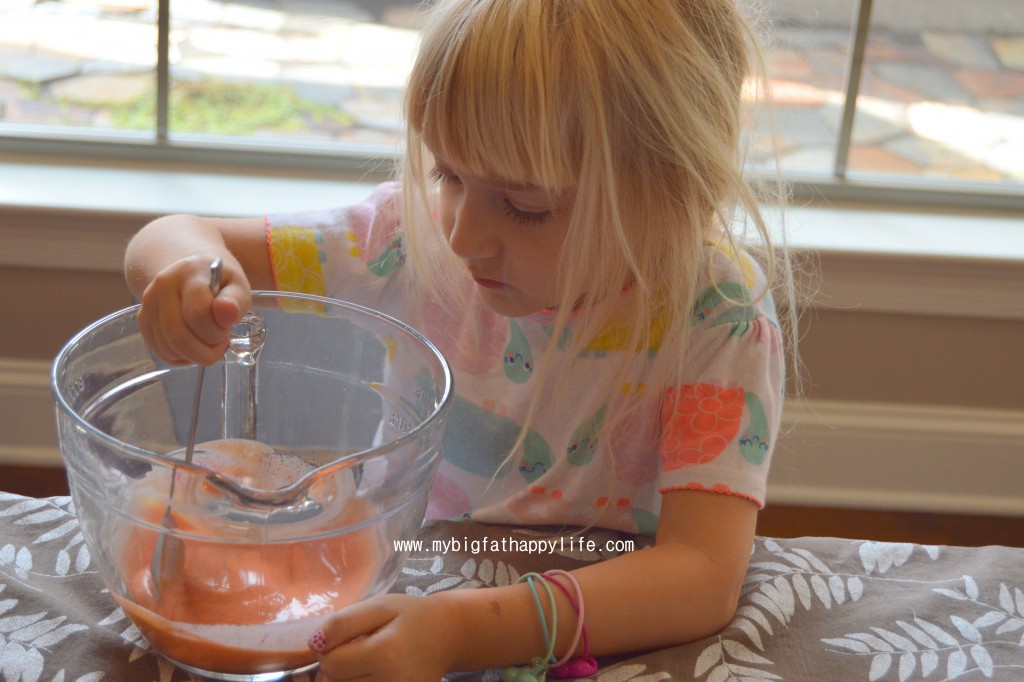 Glitter Slime
1 bottle of Elmer's Glue 4oz
1 Tablespoon of water
Red & Yellow Food Coloring
Black Glitter
1 cup of warm water
1 teaspoon Borax
Mix the 1 Tablespoon of water and glue together. Add food coloring (making the color darker than what you want the finished product to be) and glitter. I always let S decide what color she wants to make and add the food coloring to the mixture. In addition, she decided how much glitter to add. Next, dissolve the Borax into 1 cup of warm water.
Mix the Borax mixture into the glue mixture. We used our hands (the mixture will be warm, so please test with your hands prior to letting your child mix) and you can almost immediately feel the slime form. Note: Do not leave the slime in the water too long or it will get tough.
*Please watch your child while playing with this recipe and use caution if your child puts items in their mouth as Borax cannot be ingested.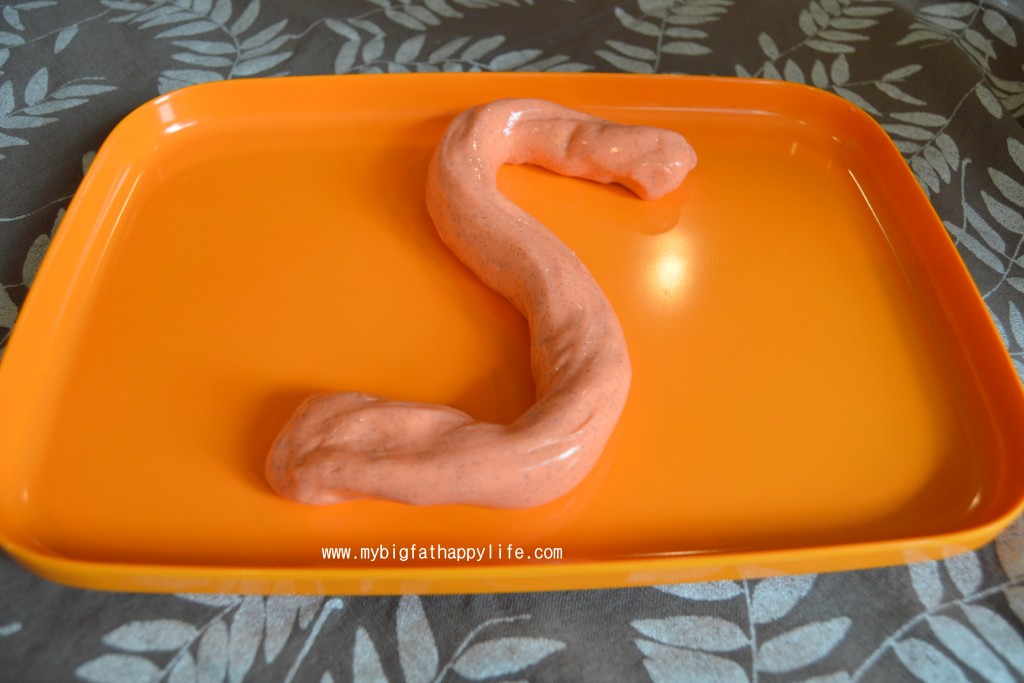 We had so much fun playing with our Halloween slime! S rolled the slime out like a snake and then shaped the slime to look like letters.
S loved squeezing the slime and making the air bubbles burst. We described what the slime felt like…soft, smooth, cold, and bouncy. The most fun we had was placing the slime over our hand and watching it move and melt down from our hands to the tray.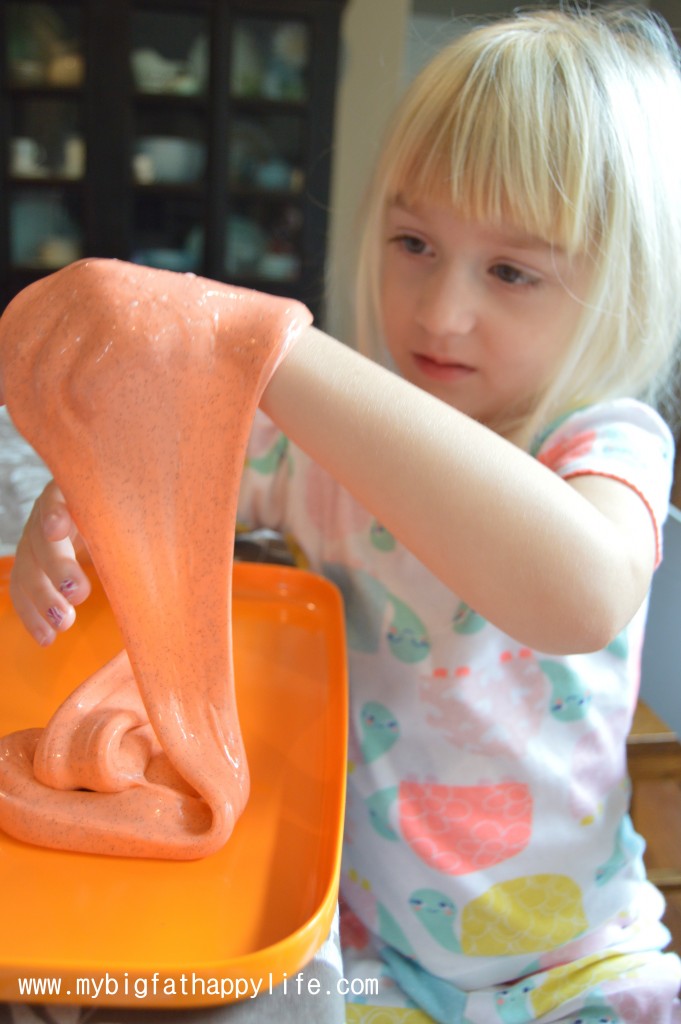 When S is finished playing with the slime, we always make sure to wash our hands with soap and water. I store the slime in an airtight container.
Have you made slime before?

You may find me linking up with the following: Mon: Magic Moments; How Do You Do It? Parenting Linkup; Made by You Mondays; Creative Mondays; Click and Chat Social Media Link Up; Merry Monday Linky Party; Motivational Monday; Weekend Wanderlust;Tue: Treasure Box Tuesday; Turn it Up Tuesday; Good Tip Tuesdays; Project Life Tuesday; Lou Lou Girls Link Party; Delicious Dish Tuesday; SoMe2; Wed: The Wednesday Roundup; The Super Mommy Club Party; Centerpiece Wednesday; Whatever Wednesday; Retro Repin Party; Wake up Wednesday; Creative Spark; A Little Bird Told Me; Thur: Weekly Kids Co-Op; The Pin Junkie Pin Party; Thrify Thursday; On Display Thursday; Fri: Pretty Pintastic Party; Foodie Friends Friday; That's Fresh Friday; Family Fun Friday; For the Kids Fridays; Craft Frenzy Friday; Product Review; Friday Favorites; Weekends: Show and Share Saturday; Country Kids with Coombe Mill; The Weekend Social; Snickerdoodle Sunday; Ultimate Link Party; Coast to Coast Blog Post Party