Tips for creating a travel journal or travelers notebook to record your memories while you are on the go.
My Big Fat Happy Life is a participant in the Amazon Services LLC Associates Program, an affiliate advertising program designed to provide a means for sites to earn advertising fees by advertising and linking to amazon.com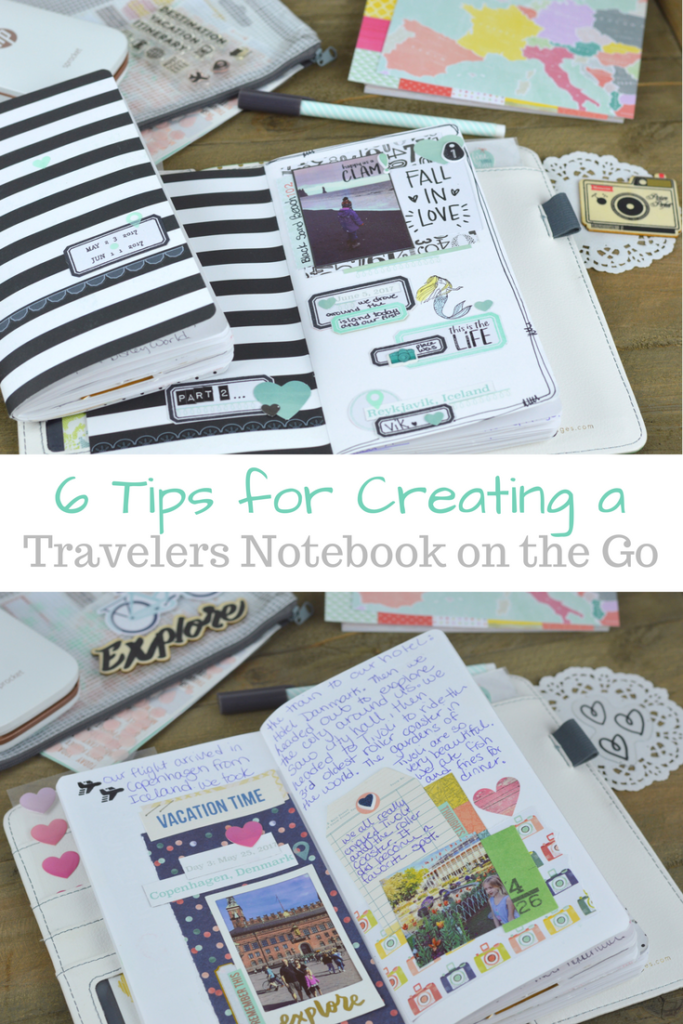 This past summer we traveled for almost three weeks to Europe and Disney World. During that time, I wanted to keep a travel journal to record my memories. I did not want to forget the details of our trip. Since I scrapbook, I also wanted to decorate my travelers notebook, but you definitely do not have to.
1. What Traveler's Notebook to Use
I used the Travelers Notebook with blank inserts for my travel journal. I prefer the blank inserts so that I can place photos, embellishments, and journaling wherever on the page that I want. However, I also like the grid pages. The traverlers notebook has small pockets on the inside where you can also place some supplies.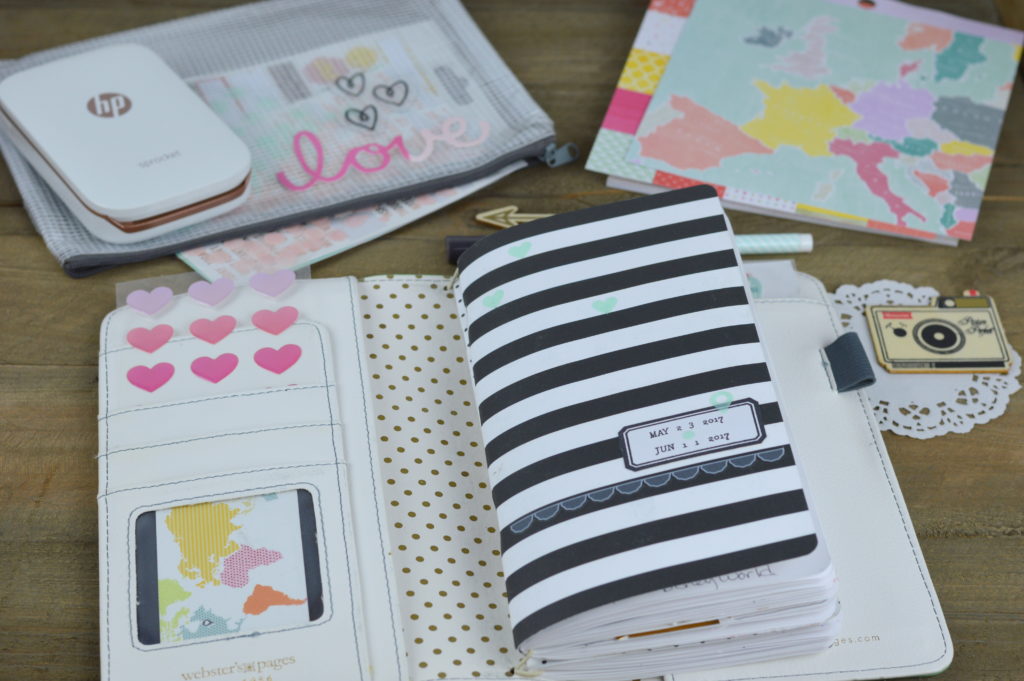 2. What to Pack
I did not want to bring too many supplies with me because of space in my carryon, so I limited myself to a 6×6 paper pad, a small pouch full of stickers, die-cuts, washi tape, pens, a small set of stamps, an ink pad, scissors (went in my checked luggage), and adhesive.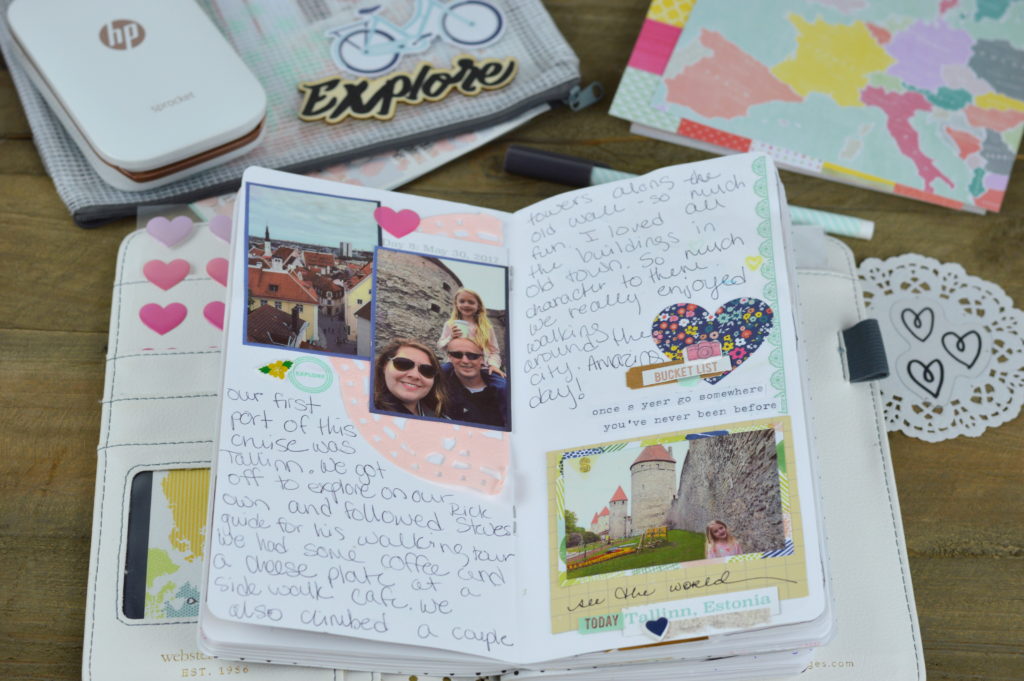 3. How to Print Your Photos
This was my first time printing photos to include in my travelers notebook and I really loved it. I used the HP Sprocket Printer which an awesome way to print photos while on the go. The printer is cordless and connects to your phone through Bluetooth. It's so much fun to be able to print photos straight from your phone!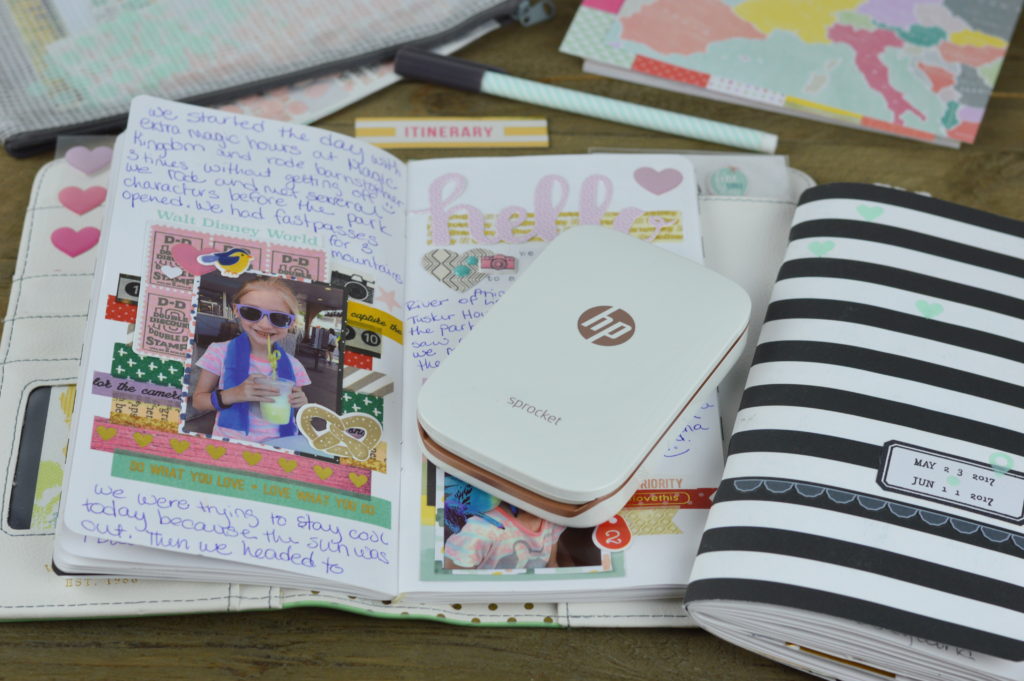 4. Finding Time
To me keeping track of the memories was important, so I found little pockets of time. Waiting at the airport, during the flights, riding the train, after my daughter went to bed, waiting poolside while my daughter swam, etc. You will also find during your trip moments where you have downtime.
5. What to Include
This is the perfect place to write down those details that you do not want to forget. For example, quotes from your child, everyone's favorite part of the day, names of places you do not want to forget, etc.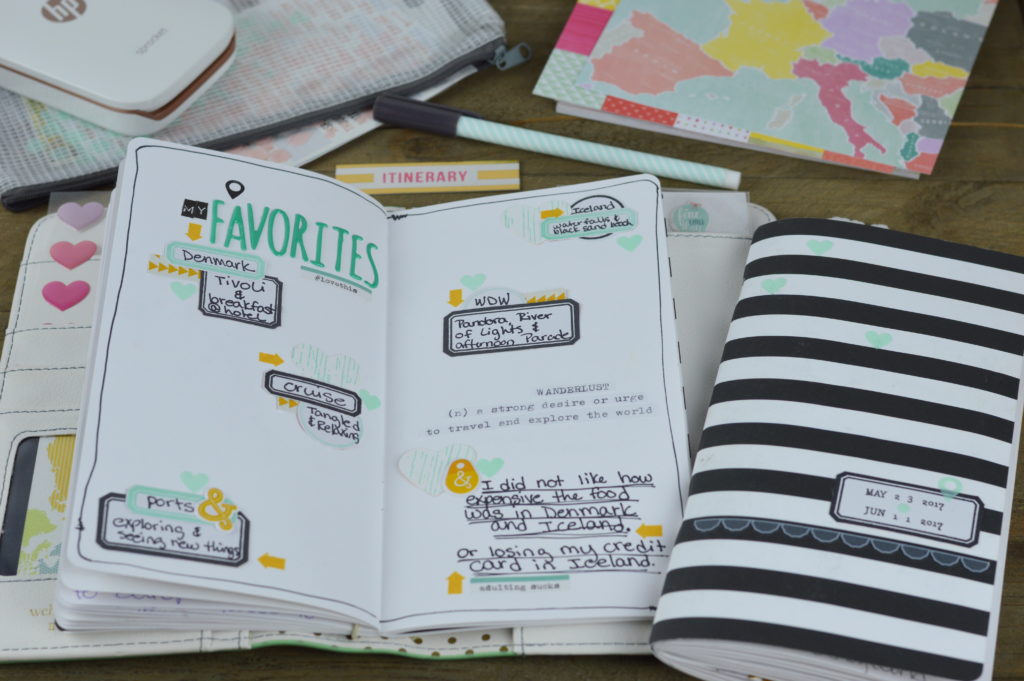 6. Have Fun
Make sure to have fun and do not stress over it! If you fall behind, try just writing the details down and not embellishing your pages. You can always go back and embellishment when you get home.
I love that I made this travelers notebook during our trip and cannot wait to make another one during our next trip.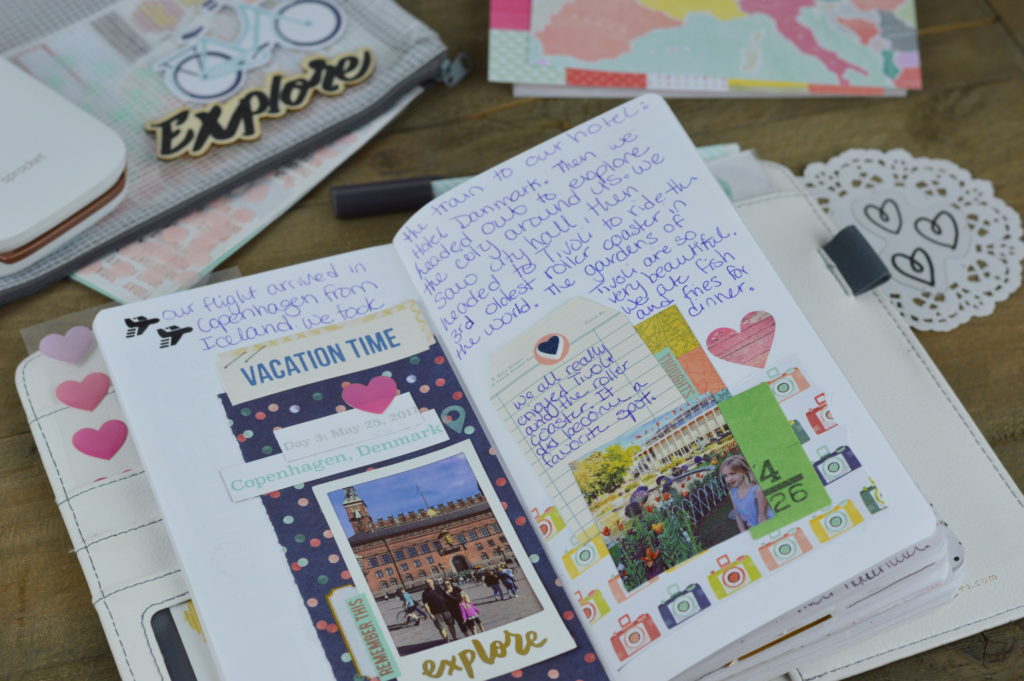 You may also love: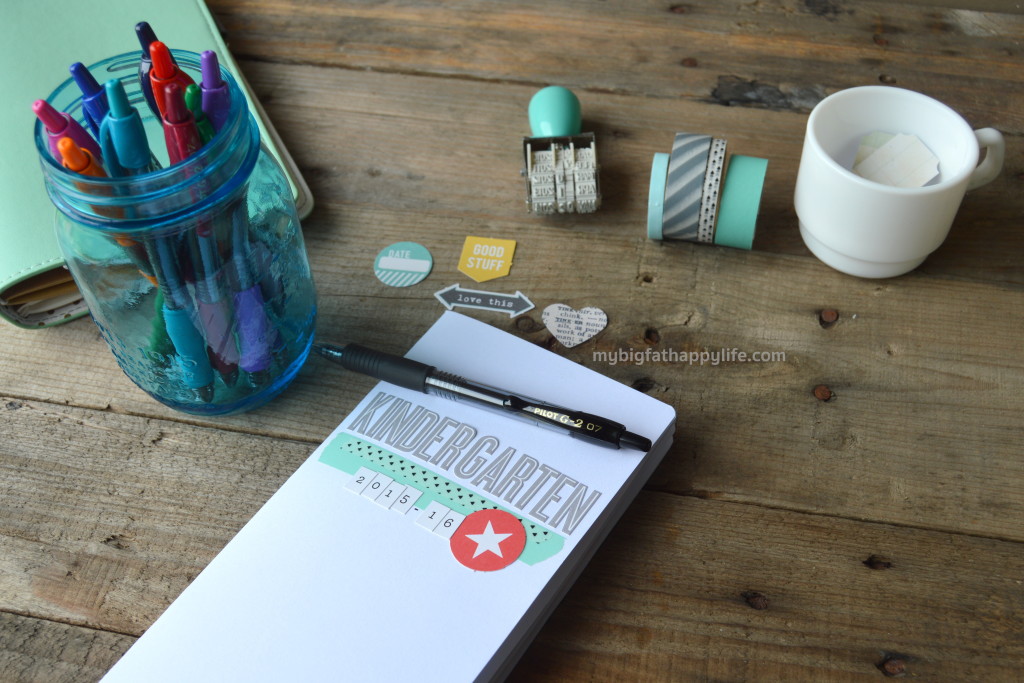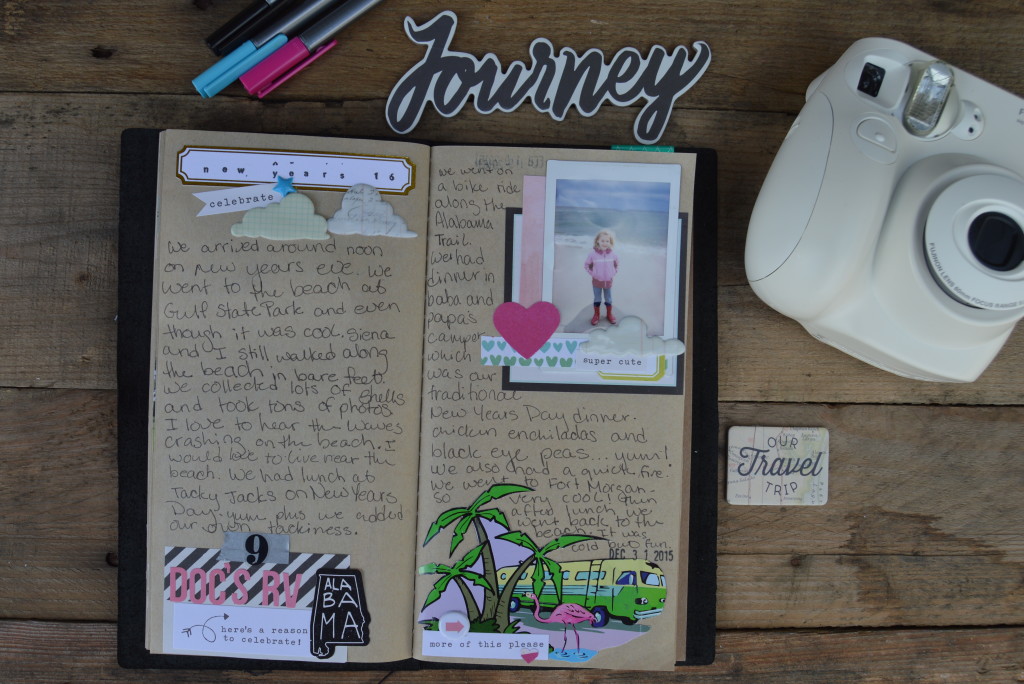 Have you made a travel journal or travelers notebook?