Disclosure: This shop has been compensated by Collective Bias, Inc. and its advertiser. All opinions are mine alone. #MyGo2Pen #CollectiveBias
With the start of the school year, I wanted to share how I am documenting my daughter's school year in an easy on the go method that anyone can do. I promise! Even though I have been scrapbooking for over 15 years, I love finding new ways to document my memories and the traveler's notebook with its smaller pages is the perfect size for this project. I am able to easily and quickly document my daughter's school year with this method.
What is a traveler's notebook? It is a leather cover with an elastic band to hold smaller bound notebooks full of blank pages. These blank pages allow you to use the notebooks for whatever you would like. There are no rules to documenting your memories!
Supplies
My first step in starting any project is gathering my supplies, so that they are all in one place. That way it is quicker to keep documenting when I do not have to be looking all over for the 'perfect' addition. Since I plan on working on my project on the go or as time arises, I placed all my supplies into a reusable zippered bag. I used one I had laying around but a makeup pouch or pencil pouch would also work.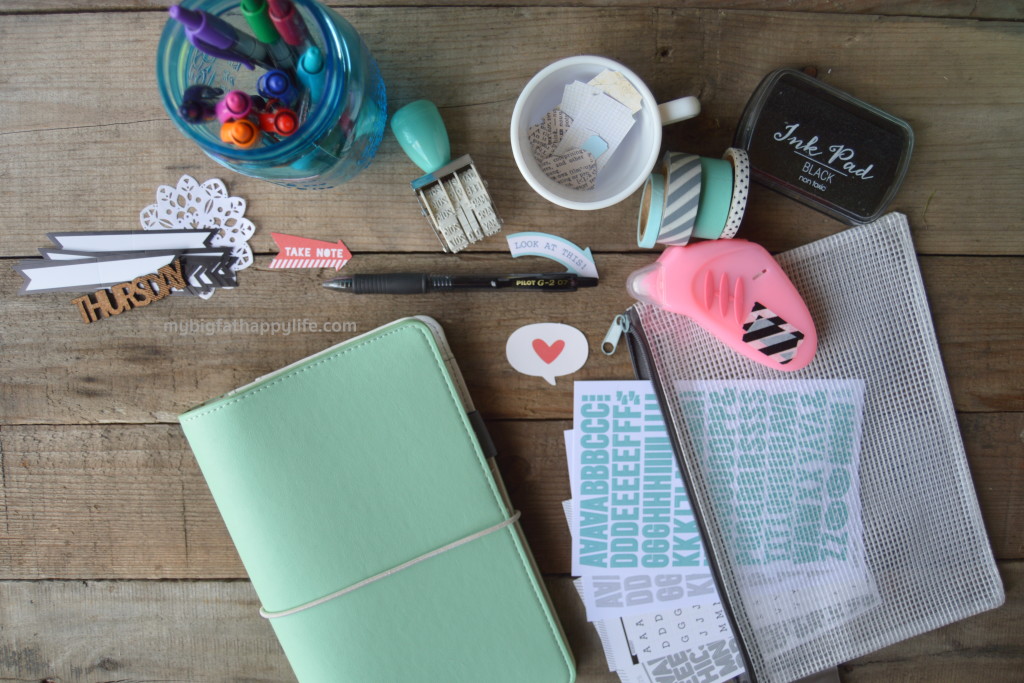 For writing in the traveler's notebook, the Pilot G2 Pens are perfect. The gel ink writes smoothly, the ink lasts longer than other pens and they are extremely comfortable to use.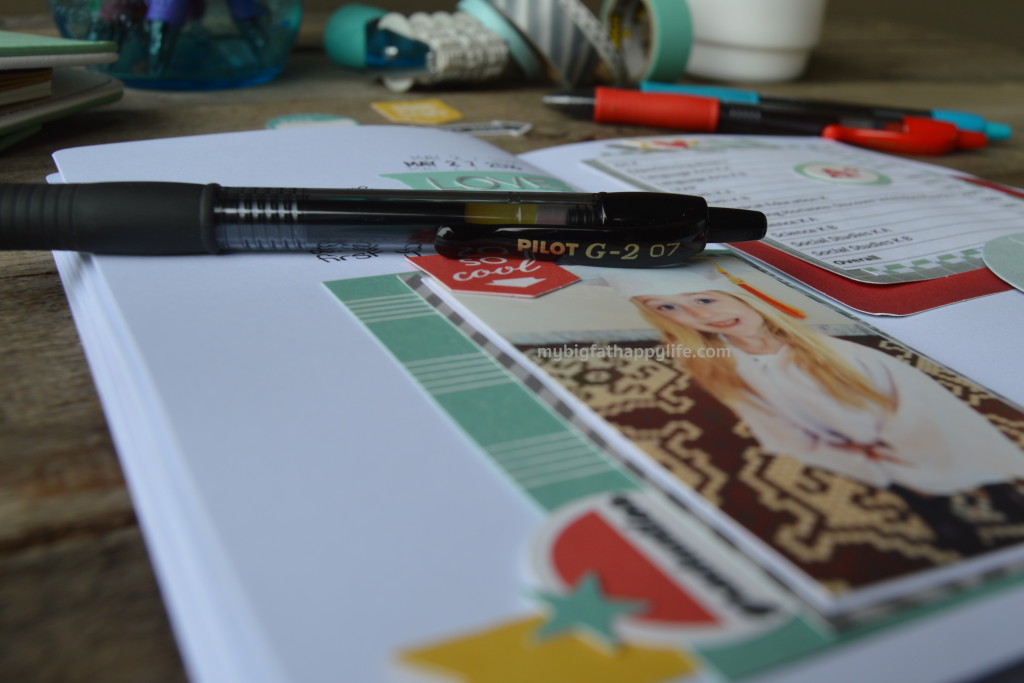 I pulled out my supplies including a school themed stamp set, a small black ink pad, Pilot G2 Pens, some labels (both purchased and punched from pattern paper), hearts punched from pattern paper, journaling cards, washi tape, school themed stickers, scissors and adhesive. Remember you can make this project as easy or complex as you want, therefore you can add more or less embellishments per your style as time allows. I do recommend using mostly flat supplies that way you do not add a huge amount of bulk to the pages. I also recommend sticking to a color scheme so that your pages go together easier and faster. I used turquoise, red and gray with a touch of yellow.
What to include in your notebook?
Some of the things that I am including in my notebook are first day of school photos, writing samples, photographs of art work, lists of favorite books, quotes from my daughter, copy of her report card, photograph of a report and field trip adventures. The possibilities are endless.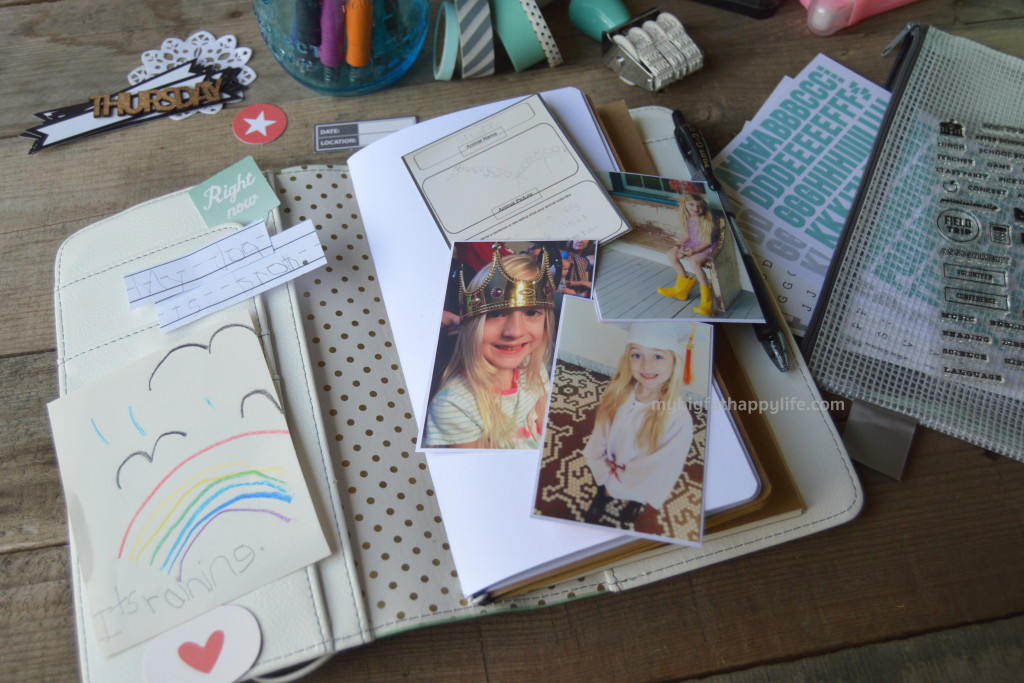 I love that I can add as much creative juices to the project as time allows, but having a traveler's notebook and Pilot G2 Pens lets me write these memories down before I forget them. The next time you are waiting in the car pool lane, for an appointment or have a moment go ahead and jot them down.
Assembling
With a project like this there is no right or wrong way to do it!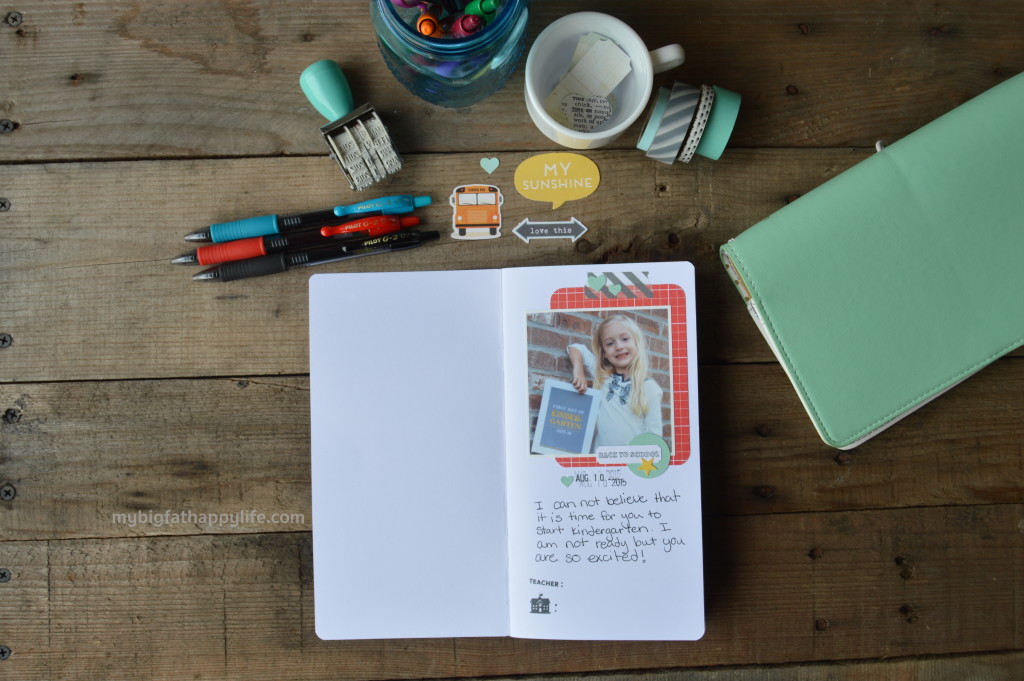 I started by matting my photos on white or black cardstock. Then I used mostly 3×4 cards as a base for my photo on the page. I added a couple embellishments, some washi tape and a stamped phrase. I tried to include the date of the photo or memory. I like to stamp my date three times that way if it's not perfect it looks intentional. Don't forget some journaling to complete your page.
Where to get your supplies?
My traveler's notebook is from an online scrapbooking supply company. You could also use a small blank notebook from Walmart. There are many varieties in their office supply section. While at Walmart in the office supply section be sure to pick up the Pilot G2 Pens. There are four different point sizes and 15 different colors available. To customize your pen options Pilot offers G2 Premium, G2 Fashion Collection, and G2 Metallics.
Remember: Your life and memories are worth documenting!
How do you document your child's school year? Is your go-to pen the Pilot G2?