This creamy Dijon Chicken Pasta with Spinach is a perfect meal any night of the week. Thank you, Skinner® pasta for sponsoring this delicious meal!
Pasta is a staple in my family for dinner. We eat pasta a couple times a week because it makes us smile, it's quick, uncomplicated, delicious, and everyone loves pasta. Pasta is so versatile, which is one of the reasons that it is one of our go to for a delicious meal any night of the week. Pasta reminds me of big family gatherings where everyone is welcome, just like how the people of Texas are.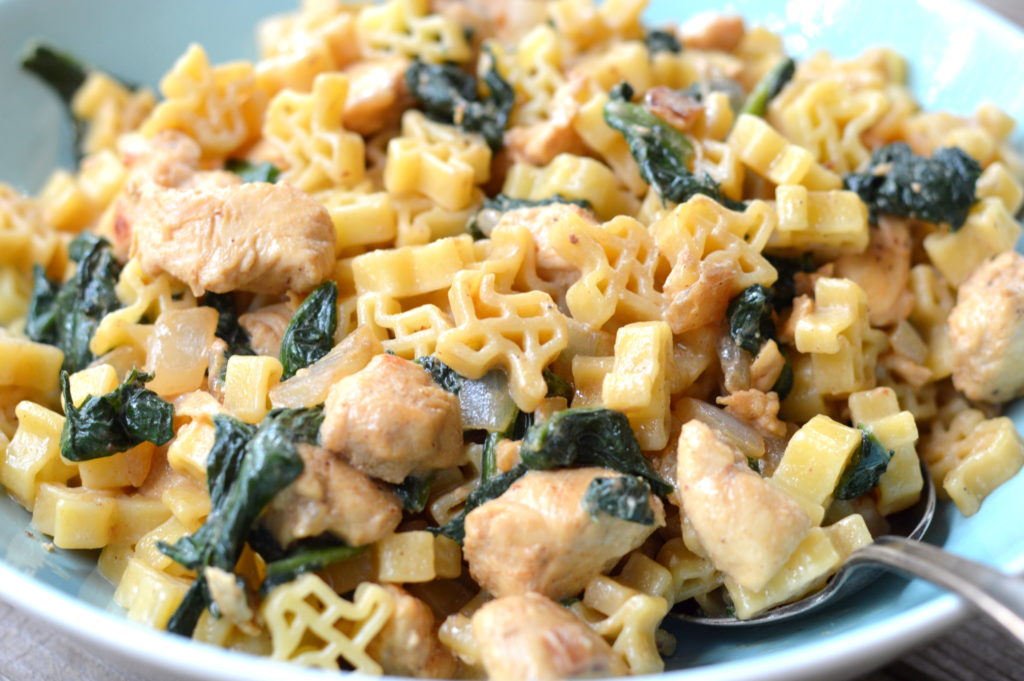 Y'all I have missed this state ever since we moved away. I am so happy that we moved back to Texas! You know that feeling you get when you know something was the right decision. That is exactly how I feel about moving to Texas. The people, the food, and everyone's love for their state.
We always grab Skinner® pasta because it is consistent and always turns out right – never sticky and always firm which means I can feel confident feeding it to my family. Have you seen Skinner Texas Shape pasta? It is so much FUN and is perfect to serve to guests to show your Texas pride. Plus kids will really love the unique shape. Skinner pasta is also budget friendly which I always appreciate when feeding guests. After all Skinner pasta is the #1 pasta in Texas!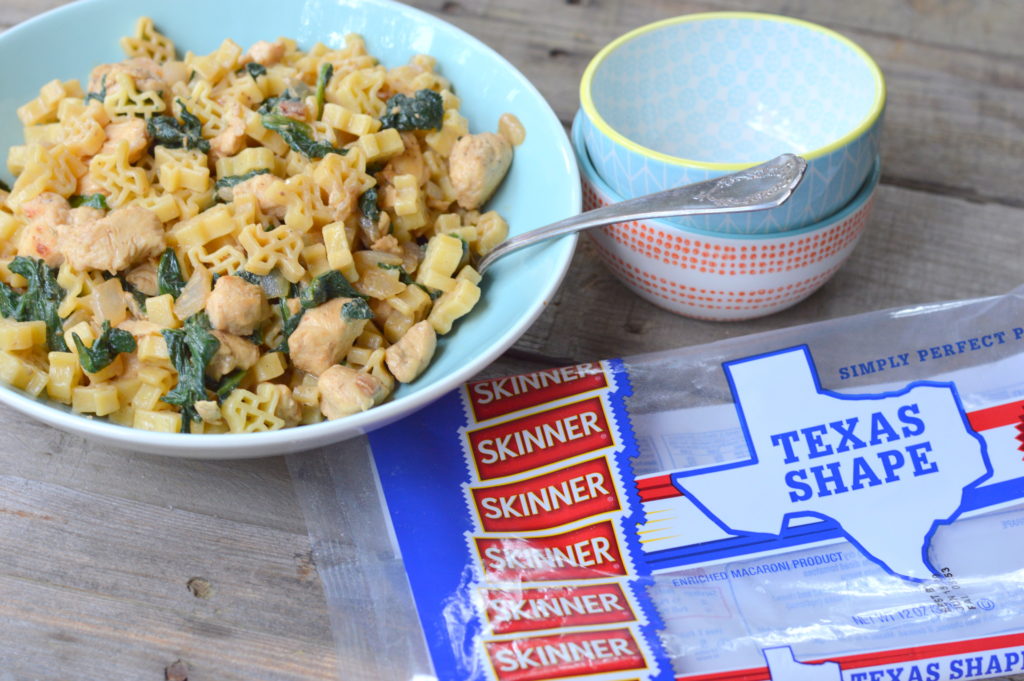 This creamy Dijon Chicken Pasta with Spinach is so easy to make! After sautéing cubed chicken seasoned with salt and pepper, add chopped onions and garlic. Then add half and half, dijon mustard and spinach to the pan. Once the spinach is cooked down, toss with cooked Skinner's Texas Shape pasta.
Simple ingredients and flavors are the perfect combination! I know you are going to love this recipe!
Dijon Chicken Pasta with Spinach
2017-07-24 21:24:28
Serves 4
This creamy dijon chicken pasta with spinach is a perfect meal any night of the week.
Ingredients
1 lb. boneless skinless chicken tenders, cut into cubes
1 bag Skinner Texas Shape pasta
3 cups fresh spinach, roughly chopped
1/4 onion, chopped
2 tsp minced garlic
1/2 cup half and half
3 tablespoons dijon mustard
salt and pepper to taste
Instructions
Cook pasta according to the instructions on the package.
Heat up a pan on medium, and add in some olive oil.
Season the cubed chicken with salt and pepper. Add the chicken to the pan to brown.
Add onion and garlic to the pan when the chicken is almost cooked through. Cook together for 3 minutes.
Lower heat to medium low and add the spinach, cream, and mustard. Stir together.
Strain pasta and add pasta to the pan. Toss together and serve.
My Big Fat Happy Life https://www.mybigfathappylife.com/
What is your family's favorite pasta dish for a busy weeknight meal? Check out more recipe ideas here.
This is a sponsored post written by me on behalf of Skinner® pasta.